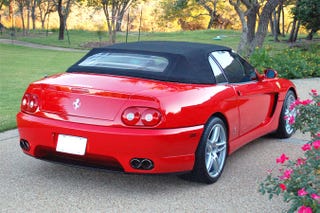 BaT just featured another very interesting car, a red 1995 Ferrari 456 Cabriolet. As with all modern front engine V12 Ferraris, the convertible was never a regular option and was either not available at all or offered as a special and very limited edition (550 Barchetta, 575 SuperAmerica, 599 Aperta).
This 456 received one of three conversion by Straman & Co, a company I never heard of. Even Google couldn't help me out here.
The car is definitely very interesting. I currently can't open Ferraris-Online to post more pictures, but the one picture shows a rather sexy rear and what appears to be newer wheels.
With this car, the 456 series has been available in all body styles: Coupe, Convertible and the Brunei commissioned Sedans and Estates. I don't think any other Ferrari has had the same variety in body styles.
Check out the original BaT article here. With an asking price of 75 grand it is a good bit more expensive than a regular 456, but is it worth it? What do you think, NPoCP?