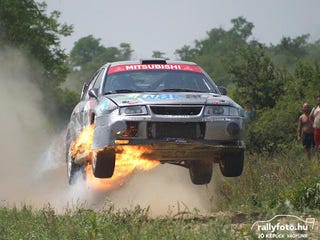 Race cars, as a rule, make terrible road cars. That doesn't stop people from making road legal race cars, be it out of necessity, out of convenience, or because you're simply bugnuts. When I first thought of this DD Track Burn it seemed simple, but the definition of "race car" is actually a bit fuzzy. Do track day cars like the KTM X-Bow qualify? Ultimately I decided in this case not to allow track day cars. So here are your three choices:
Robby Gordon's Dakar Hummer
Yep, it's road legal. Gordon's Hummer is powered by a LS7 motor making [redacted] horsepower (seriously, I couldn't find any HP numbers, though I've heard rumors of being in the 400-500 range, even with the ASO engine restrictor) and propelling the two-ton giant up to speeds over 130 mph. The 37 inch tires can be inflated and deflated without ever getting out of the vehicle and the independent suspension provides 24 inches of travel in all corners. Creature comforts include seats, flaps that loosely resemble "doors," an integrated jacking system, and air conditioning. The 100 gallon fuel cell ensures that if you do somehow run out of gas it's YOUR DAMN FAULT for not stopping sooner.
Aston Martin V8 Vantage N24
This car is most famously known for being driven around Europe by a naked man which, sadly, is an image most of us will never be able to get out of our heads. The N24 is powered by a 4.3L V8 making 410 horsepower, ensuring the 2,900 pound car gets you where you need to go quickly. In its Nurburgring 24 hours debut it finished fourth in class, before being driven back to Britain on public roads.
Red Victor 3
So, it's a 1972 Vauxhall, originally available with horsepower figures about equal to the current age of the Model T. That didn't last long once Andy Frost Autosports got their hands on it and now it houses an 8.8L twin turbo V8 making an absolutely goofy 3,000 horsepower. While it runs M1 methanol on the strip it can run pump gas when driving on the street, making it the only street legal car in the world that is also legal to race the FIA and NHRA Pro Modifiedclass. In June it ran the quarter mile in 6.49 seconds @ 226 mph, making it the quickest street legal car in the world.