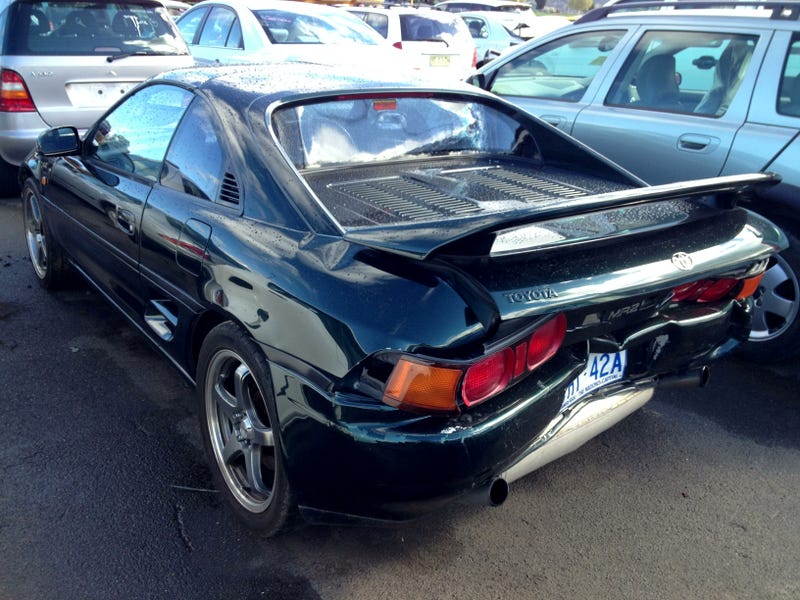 I finally went to the salvage yard to collect the last of my things from the MR2.




The front isn't too bad, that's where I got pushed into the car in front of me.
Both headlight mechanisms are broken, one won't go down and the other won't go up.




and that's where I hit my head, the inertia of the crash pushed the seat back a little and my head slid up and hit the rear window and then the ceiling (there's still some skin left on the fabric, but I'll save you that photo)




and a shot of the outside, just so you can try and make out my big bushy beard in the reflection. (you can'y really, phone is in the way)

All in all it was a pretty somber trip, I had the car for nearly 7 years and had plans for an engine swap in the coming months. I gave her a pat, stripped her of all the good parts the salvage yard would let me take, and thanked her for all good times.

The insurance company says I get the full agreed value less the $600 excess, so I'll be on the hunt for a new car in the coming weeks. I'm keeping my eye out for a Turbo MR2, or maybe a gen 5 RX7.. or maybe an R32 Skyline, or a Stagea, Legacy/Liberty turbo? ooh ooh I could get Z31 or a MZA70 Supra.. god help me this will be hard couple of weeks.