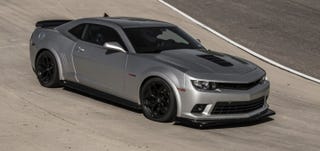 Al Oppenheiser, Chief Design Engineer for the Camaro, is claiming they just did it again, the time? 7:31.9. 7 minutes, 31 seconds, 9 fake seconds!
If you recall, the first lap time released (video evidence) was done partially during a light rain. He is claiming they just did it in the dry 6 seconds faster. Putting down an even more impressive, and even more super car beating lap.
No actual proof via video though. I'm sure they'll run it again with the cameras rolling.
That LS7 deserves it's own day.