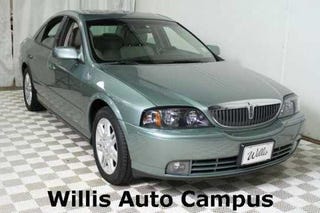 The Lincoln LS was Ford's attempt to bring Lincoln a BMW 5-Series competitor in order to gain younger clientele. They wanted to make a proper European sports sedan with independent rear suspension, rear wheel drive, 50/50 weight distribution, along with the luxury amenities one would expect. So, this being '90s Ford, they used a Jaguar platform. The Jaguar S-Type to be specific. Then, they hired a German designer to make it look German. The car launched as a 2000 model year in 1999. It was met with much praise, including the Motor Trend car of the year award. The LS received it's only refresh in 2003, which, if you read the title, is the car being reviewed here.
Exterior 9/10
The LS has a very handsome body, which, was clearly influenced by the BMW's and Mercedes of the late 1990's. You can tell that they started with a solid block of clay and carved it down, (much unlike the newer Japanese luxury cars where they took a car and started just adding various bits to while blindfolded.) The 17 inch wheels are an attractive design and fill out the wheel wells nicely. The black headlight bezels, and smoked taillights complete the look.
Interior 8.5/10
Power all the things!
Multi-way power seats, pedals, and steering wheel make finding a comfortable driving position easy. The leather seats are very plush and mildly supportive through spirited turns; however it's clear that highway comfort was chosen over sport. But, in a car like this, it was a good choice to make.
The back seat is also comfortable, but due to the #thicke front seats, leg room suffers for taller passengers.
Most of the plastics are soft to the touch and feel good, however there are a few key pieces that remind you of Ford's "Let's make this cost way less than the competition" approach of the era.
But the only downfall of the interior is outside visibility, this would have knocked off more points, but seeing how all new cars are like this, I'll only take off a half.
Acceleration 7/10
The 3.9L DOHC V8 is making 280 hp and 286 lb-ft of torque, with 87% of it coming at under 2,000 RPM. This is enough to get the car to 60 mph in less than 6 seconds. The only down side to this is the transmission, which I'll get to later on.
Braking 7/10
It stops good and the pedal feel is nice.
Ride 8/10
It's built for nice long highway blasts with the ability to take turns. The Jag platform is a great multi-tasker. It absorbs bumps well without getting unnerved. The LS is just on the comfort side of ride and handling.
Handling 7.5/10
The car handles quite well for a big-mid-sized sedan, thanks 50/50 weight distribution, RWD, and Jaguar IRS! The steering feel is there, but nowhere near my E36's. However, this is not a bad thing, as it is a very nice highway cruiser and the LS feels planted at speed.
Gearbox 2/10
To the people who designed the 5-speed automatic found here should be kicked in the head repeatedly. This would be a good description of how it really wants to behave. If you go easy on the throttle it will shift with only minor jarring at about 2,000 RPM. If you put it into manual mode, things change for the worse. It will hold the gear that you have chosen for as long as you want. When you go to shift, the delay is most unnerving as it decides to shift, and when it does shift, there is a big kick to your face. If you are in 4th or 5th and come to a stop, the car will put itself into 1st.
Also the shift pattern is backwards, with moving the shifter forwards for the upshift and backwards for a down shift. Minus big points here.
Audio 7/10
The ten speaker stereo system has nice highs and good bass, however the mids are just a tad lacking. The deep V8 burble is nice under heavy acceleration, and whisper quiet for the rest of the time. I would like more all the time, but most would find it annoying.
Toys 8/10
Heated and Air Conditioned front seats, the heat function will roast the hell out of your testicles if you have them, but the A/C is so damn awesome in the summer time, so huge points just for that. Automatic climate control is good. Sunroof that works is nice. Power everything.
Value 10/10
Why a perfect 10? Because they are $10,000 and below for good ones, and supplies are still plentiful. It's just a shame that Ford only kept it around for 6 years, Lincoln is in need of a car like this now.
Total- 74/100
Engine: 3.9 liters V8 with 86.1 mm bore, 85.1 mm stroke, 10.8 compression ratio, double overhead cam, variable valve timing/camshaft and four valves per cylinder
Power: 280 HP @ 6,000 rpm; 286 ft-lb @ 4,000 rpm
Transmission: 5 speed autoterible
0-60 Time: About 6 seconds
Top Speed: 140 MPH (limited)
Drivetrain: Rear-Wheel Drive
Curb Weight: 3692 lbs
Seating: 5
MPG: 16 city/23 highway/18 combined cycle (Real world is better about @ 24 combined)
Blue Book Average: Around $7,000ish
Pictures from various sources on Google, because I'm not at home to take them from my mom's car, which is light green like the lead pic.