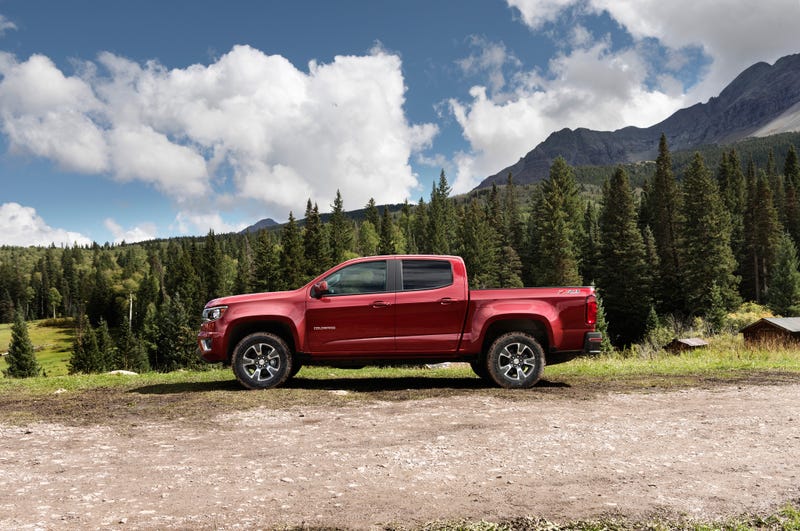 I had/have a high level of anticipation for this new truck; it's going to be in my garage level of anticipation.
I think it looks great. The gas engine options are pretty typical for this size of truck-but diesel! I've been closely following news and rumours surrounding the development for what seems like years and my own assumptions about it's final form were pretty much spot on.
I like that they beefed it up, and truckified the front end in comparison to the global Colorado. It's nice to see influence from the 2014 Silverado in it.
Specs and size basically peg it in 1st gen Silverado capability (1999-2005? model years). Quick rundown refresh:
-5 inches narrows, 3 inches lower roof line, 900lbs lighter than 2014 fullsize GM trucks
-extended cab and crew cab only. rear bench in ext-cab only seats two and can be a deleted option entirely (good for fleet purposes). Crew cab offers full 3-person bench in the back.
-Crew cab can be optioned with short 5ft bed, or regular 6ft bed.
-6spd auto
-3.6L V6 300hp 270lb-ft
-2.5L I4 195hp 185lb-ft
-2016 brings the diesel 2.8L, probably with 200hp 350lb-ft
-Tow "greater" than 6700lbs when optioned accordingly
Is this truck missing anything you thought or wished it would have?
Mind you, a manual transmission is a pretty firm rumour that it is coming, maybe at the same time as the 2.8 diesel in 2016. And we haven't seen the options list, and if it's like any other truck it's going to be long and get pricey.
Also, the new 4.3L V6 found in the full size trucks wasn't used because the 3.6L fuel efficiency was better to the point that the lack of torque was over ruled. GM felt that for the purpose of this truck, fuel econ would be a bigger player than torque for the consumer.
There is no word of an LTZ trim level (top level before getting into the 'truxury luxury' Denali and new High County), so maybe that is how they will set it apart for the GMC Canyon a little bit more; start the Canyon's lowest priced model right where midrange Colorado models are priced and give it a more luxe package in lieu of the LTZ absence.
I'm also hoping we see something like the ZR2 package (more hardcore offroad package that the Z71: factory lifted, wider stance, skid plates, suspension) that was offered on the S10. Same with the other end of the spectrum, a street performance variation.
Oddly, at my first impression, the only thing that came to mind was a removable rear window. Just like what the Avalanche had. Could be taken out in a matter of seconds and stored safely out of the way behind the rear bench seat back. It would be more novelty than anything, so I'm not sure why I am giving a second thought.
Lastly, I want to see how the GMC Canyon looks and is spec'd. I've always been a bigger fan of Big Red over the Chevy twin, so ya, I'm one of those people.