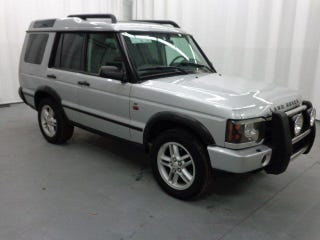 By buying this here Disco.
I've been looking for a winter truck for a while now, and so far everything I've found has been a road trip away from me. I'm in Madison, WI and have found trucks I like in Chicago, Milwaukee & Iowa. But none here.
I don't want to make a road trip if I can avoid it, and a Toyota dealer here in Madison is selling this Discovery. It's an '04 SE with the locking differential. I ran the VIN and it's spent its entire life here in Madison, so I called the local Land Rover dealer to get service history.
They said it's been a couple years since they last had it in but confirmed it had been in mostly just for regular maintenance with a couple random things, including hood latch, spark plug wires, some kinda intake gasket & something to do with the door locks.
Toyota dealer is asking $7990 but Edmunds is way down at $3875. Going in tomorrow to check it out. Plus...dat light bar.