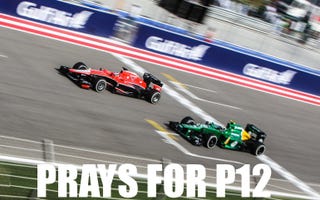 Aside from the substitute driver,Heikki Kovalainen, here we have the only four drivers who have not finished higher than 12th this year. Can any of these guys pull that off tomorrow?
Why is this important? I mean, who gives a shit who comes in 12th?
Because money.
While either team has not scored a single point (requires a top 10 finish), Marussa is scoring higher than Caterham because they have placed better. (a tie always goes to the team/driver with the highest place finish). Caterham stands to not get a single penny from the series, because prize money is only paid to the top 10 teams.
Who's going to get paid? Marussia the way it stands, or Caterham with a P12 or higher finish?
This is the race I'll be watching tomorrow.
UPDATE: Caterham out-qualified Marussia!