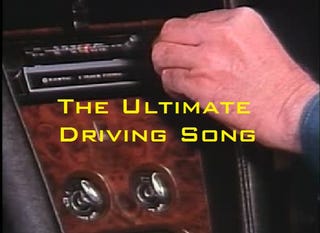 For over a century the debate has been ongoing, wars have been fought over it(on forums), and people have even lost their music selection privileges for voicing their opinions of it. Many have tried to settle the debate, however they have failed. But, on this day, the beginning of the end arrives. Right here on this hallowed ground of the internet, known to many as Oppositelock, we will once and for all settle this issue and the Ultimate Driving Song shall be named!
Below I will post a few of my choices in no particular order, and then I will ask you, the people(and possibly a few dogs) of Oppo, for yours.
"Atlas"- Battles
"Ace of Spades"- Motorhead
"Amoeba"- The Adolescents
"Assassin"- Muse
"Black Betty"- Ram Jam
"Baba O'Riley"- The Who
"Fire"- The Jimi Hendrix Experience
"Evil Eye"- Fu Manchu
"Mladek"- Russian Circles
"Immigrant Song"- Led Zeppelin
"Rock And Roll"- Led Zeppelin
"Pyramid of the Sun"- Maserati
"Showdown"- Pendulum
"The National Anthem"- Radiohead
"Feuer Frei!"- Rammstein
"No One Knows"- Queens of the Stone Age
"Don't Stop Me Now"- Queen
"Symptom Of The Universe"- Black Sabbath
"Seek And Destroy"- Agent Orange
"Green Hornet"- Al Hirt
"Riot In Thunder Alley"- Eddie Beram
"20th Century Boy"- Marc Bolan & T. Rex
Agree with them, good, suggest more. Disagree, good, suggest more. Either way we need to get it down to 64 songs. So, let The Great Beatoffnik, BEGIN!