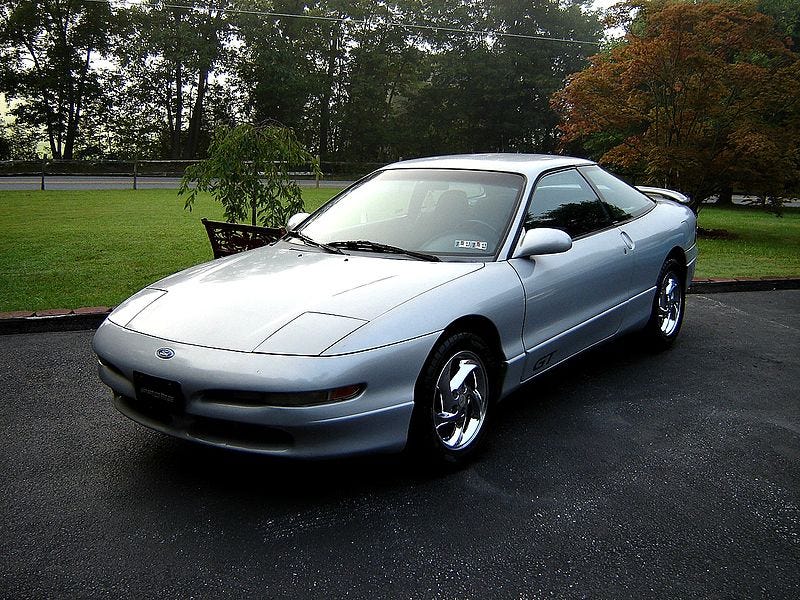 Here's to the Ford Probe GT, the car that looks and is equipped remarkably like today's turbo four cylinder sports cars. With the 2015 Mustang reputedly finally driving a stake into the Boomer nostalgia fest of the last design- hopefully now Ford is finally going to offer a car that matches the engines in quality and innovation.
But what could have been had buyer's bought more Probe's instead of Fox body 5.0s.
For the 80's, it was a forward thinking design:
The GT included all the equipment of the LX, but featured the F2T 2.2 L turbocharged, intercooled engine that produced 145 hp (108 kW) and 190 lbft (258 Nm) of torque. It came with an IHI RHB5-VJ11 turbocharger and an intercooler to the intake tract, as well as a knock sensor and electronic boost controller to the engine-control system. The boost pressure was 7.3 psi (0.50 bar) in the vicinity of 2,500 rpm. The GT version also came with 4-wheel disc brakes with ABS, a 3-way adjustable suspension utilizing variable damping shocks, and a speed-sensitive variable-assist power steering (VAP). The Probe GT's suspension system was based on a Mazda design, but its tuning was different and included nitrogen-gas pressurized front and rear struts, with stabilizer bars.
And that was just the first gen. The second gen (92-97) did the current revamp favorite move- longer, wider and lighter (125 pounds in fact). And much like how the Focus ST and Fiesta ST specialize in punching above their weight, the Probe did it first:
In a coast to coast road test by Automobile Magazine in search of the best cars in the world, the Probe GT scored third place,[11] right behind an $80,000 Mercedes-Benz and an $80,000 BMW. In the article, the Probe listed at about $15,000.
And visually, the car hold up well (unlike many "cutting edge" designs from the 80's and 90's). I saw one today, and it still turns heads (especially in black).
More praise for the Probe:
Awards

The Probe GT was Motor Trend magazine's Car of the Year for 1993. It also made Car and Driver magazine's Ten Best list for 1989, 1993, and 1994.

The 1993–1997 Probe was one of the few Fords through the 90's that Consumer Reports recommended.[15]

The NASCAR Dash Series version of a 1990 Ford Probe driven by Jeffrey Collier set a new track record at Daytona International Speedway February 13, 1990 with a speed of 166.553 mph. That record still stands as the fastest closed course lap for a non-turbo 4-cylinder powered car.