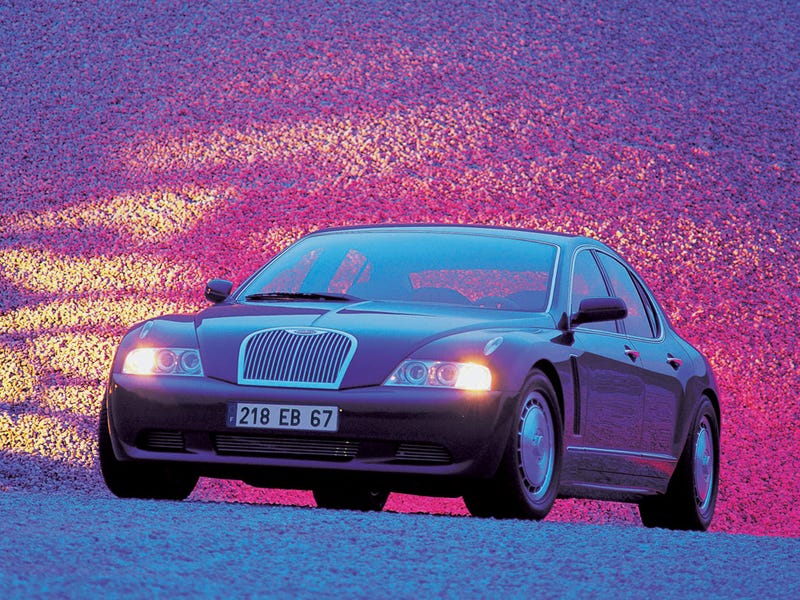 Well, back in 1999, Volkswagen that just bought the Bugatti, and they still have no idea what the hell they are going to do with this brand. So they give Giorgetto Guigaro and his ItalDesign team 2 W18 engine, and tell him to build a coupe and a 4-door saloon for that engine. And then, the EB218 was born.
The EB219 is designed to be a luxury sport saloon, to go with something called Bugatti Spirit. You know, as you can see in Veyron where a 2 ton coupe could fly all the way to 260 mph. And ya, this car, being a luxury saloon, is quite heavy too, tipping the scale just shy of 4800lbs. Or more exactly, 4,799.5 lbs. And that car is already built using Audi's Space Frame Aluminum. But somehow i could do 0-60 in 4.5 seconds, thanks to this thing:
A Naturally Aspirated, 6.3L W18 engine, made by Volkswagen, producing 547hp @ 6,800 rpm plus 479lb-ft of torque @ 4000rpm. Couple that with the same 4WD system out of Lamborghini Diablo VT. So despite the ancient 5-speed Automatic transmisson, it's still quite fast. Plus, it's also got a retractable spoiler in the back ala the Veyron, to deal with downforce and braking.
And yet, the rest of the car is just like a normal, very luxury saloon. The top speed is limited to 155. The interior is made out of leather, walnut, and metal bits and bobs, something the bugatti called "Well-Balanced Metal interior". The rear seats is do recline, and have footrest (really, they put footrest as the notable feature). It's also got a paddle shift (i wonder how 1990's paddle shift feels), And best of all it got a removable clock there. And i have no idea what to do with that thing.
And i have to say, a Bugatti Saloon is a great idea. Really. I once sat in the Veyron, and it's a such a nice place to be. Plus, the EB218 is almost perfectly sided for a big daily driver. It's 5.3 meters long, 2 meters wide and 1.4 meters tall. Not bad, altough it's need to be a little bit taller, maybe at 1.5 meter. Yes, there's a few drawbacks such as dat ugly grille, and Bugatti didn't produce it. But still, i kinda hope this car exist.