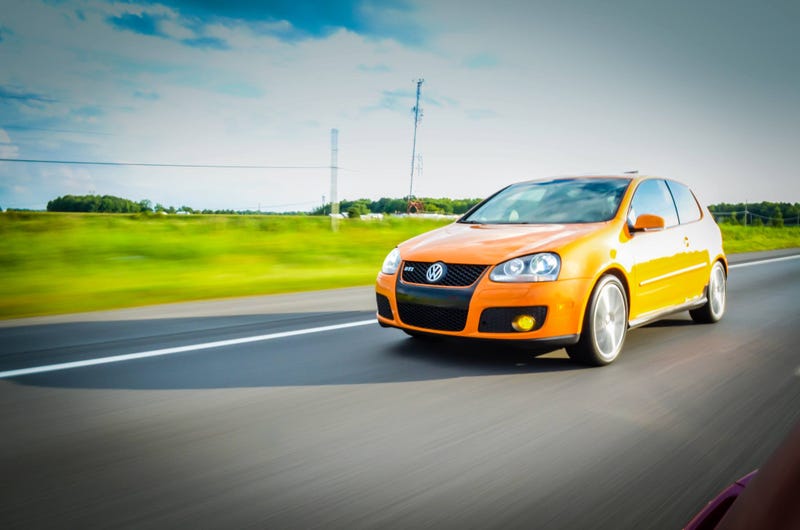 I've always loved Volkswagens. My parents owned an MKIV diesel Jetta, a B5,5 Passat Wagon and other German cars. Back in January of this year I bought a nice 5-speed MKV Rabbit. It had a lowered suspension, xenons, Detroit wheels, tinted windows and all that good stuff. It also had 135 000 kms (84 000 miles).
Disclaimer: I'm from Canada, I'm new here and I speak French. Expect to see spelling mistakes, sentences that make no sense whatsoever and prices in CAD. All pictures are my own unless otherwise noted.
So I used it for 6000 miles and listed it at a way higher price than what I had paid for. I was about to start university and wanted a car with less mileage since I have a weekly 250 miles commute. What I had in mind was to buy a Fahrenheit GTI, a car I always dreamed of. But I had to sell the Rabbit at the price it was listed or I'd keep it. Here's my Rabbit :
I started looking for a Fahrenheit Edition GTI. For those of you who don't know, its main feature is the magma orange color. They also all came with the DSG transmission, orange interior accents, special spoiler, Charleston wheels, leather, sunroof. 150 where made for Canada and 1200 for the States. There's also 1200 Yellow Fahrenheit GLIs that only you American friends got.
There were 3 for sale in Quebec at the time and 1 very close to where I lived. It took some time but the Rabbit got sold at the price I wanted. So I went to the dealer that had a Fahrenheit to have a good look at it. It had 30 000 miles, never winter driven but they had just sold it. Since the Fahrenheit edition only came in DSG, I asked a seller if I could try an other DSG GTI to see how it drives. I loved it but it was an MKVI and that's not what I was looking for.
The second Fahrenheit was sold too. So I gave it a last shot and called the guy that had one and lived close to my house. So here's the car in question, Fahrenheit #25/150 :
It was the first time in my entire life that I drove a car that was this dirty. I mean, I've seen dirty cars but this was unbelievable and miserable at the same time. There were coffee all over the cupholders, dog hair and food all over the backseat and the cargo area, 5 years of dust on the dashboard and so on. The car was on winter tires since the summer ones were completely worn out. There were decals on the side that were peeling off and he had somehow messed up the front bumper. He was asking something like 15000$ and when I offered him 12800$ he said yes. But the most important factor is that the car has a 5-star Volkswagen Protection Plus warranty. It covers basically everything until next June or 160 000 kms (I'm at 112 000). It's a 3000$ warranty BTW. That's the only reason I bought the car, considering its condition. I got kind of a got deal, considering its limited edition, ok mileage and it has that killer warranty.
Brought the car home, started washing it, but realized it was a too big of a job for me.
I finally had a detailer do the entire interior and fix the front bumper. It was a well-spent 250$. This was the result:
To this day, there were almost 2000$ worth of repairs done under warranty. Starter, rear shock, a fan, check engine light that came up from a faulty part under the hood (I don't have the bills right now but will edit this eventually).
(Edit : find the list by clicking on this)
Six months later, what do I think? I love this car more than any one I've owned. The DSG is really cool, it farts when it changes gear and I love that. There's plenty of power (but some turbo lag) and it proved to be reliable (edit: alright lots of repairs, but the car never left me stranded). Everyone look at the car, more than one people offered me to buy it, I've had dozens of thumbs up and everyone talks about it when I go to the dealer. I don't have an attention deficit and I didn't need a car to stand out but it's fun to see that people love your car. It's also fun to have a Lamborghini paint job.
I've done some cosmetic mods. I started by tinting some parts and the windows, I put on yellow fogs, removed most of the badges, I wrapped the grille in matte black and plastidipped the emblem. I used Vagcom to reprogram my DRLs so it would be the fog lights instead of the xenons (they cost 250$ to replace so I'm minimizing the risk). I also enabled the coming/leaving home feature and configured my fob to open and close the windows.
What's wrong with it?
The stereo is shit and speakers are blown. There are so many rattles. Steering wheel controls are not working in accessory mode. The sunroof does a pretty intense helicopter sound when it's open, the seat bolsters are done but that's the previous guy fault.
What's to come?
Lots of things. I've not done any performance upgrades yet because I didn't want to mess with the warranty. But here's what to come: lowered suspension, air intake, RCD 510 touchscreen, euro OEM LED tails, matte black spoiler and roof (maybe), orange brake callipers and I'll have the exterior fully detailed.
Would I do it again?
Maybe it wasn't the smartest move considering I started university in august but the car itself is magical, I had a pretty good deal and I couldn't pass the opportunity to own one of my dream cars. There's also a pretty nice community of Fahrenheit owners!
If you want to look at more pics, find me on Instagram @theorangecarguy (lol). You can also find the Fahrenheit registry here.
I once heard something in one of Petrolicous' videos that sums up the experience I've had with this car : no matter what kind of job I held, no matter what kind of life I had, no matter how bad the day was, at the end of it, I just get in my car, start it up and take it for a drive in the mountains and everything seams right. It was always there for me. So when you have something that makes you fell good, regardless how many bad things happen in your life, why wouldn't you keep it?
Life is all about the drive.