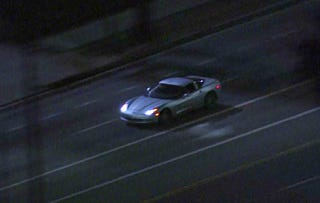 UPDATE: UNCUT VIDEO BELOW...
anyone else catch this police pursuit on live TV earlier tonight? silver Corvette C6 chased by Los Angeles police at high speeds, ending in downtown Los Angeles after the Corvette plows into another car.
crash:
http://abclocal.go.com/kabc/story?sec…
ktla.com/2013/12/13/pursuit-of-silver-corvette-comes-to-violent-end-in-downtown-l-a/
http://www.deadline.com/2013/12/police…
http://losangeles.cbslocal.com/video/9634793-…
i didn't catch it live. instead, when i got home at 1 am i turned on the tv to find an encore broadcast of the 10 pm news covering the live chase. unfortunately, they ended the broadcast early at 10:30 for a sports special. so i went online to see how it ended, and apparently... Corvette guy got shot by cops on live TV.
UPDATE: after reading several people's tweets, take a look at the crash video and see who had the green light. yup, fleeing Corvette had the green, "innocent" car ran a red light... right into a police chase.
embed/simple
the Corvette was heading "up" in relation to the screen direction towards the green light when the other car enters intersection from the "left"

UPDATE 2 - watch the unedited video at your own risk:
Crash happens around 20:30, shooting shortly after.