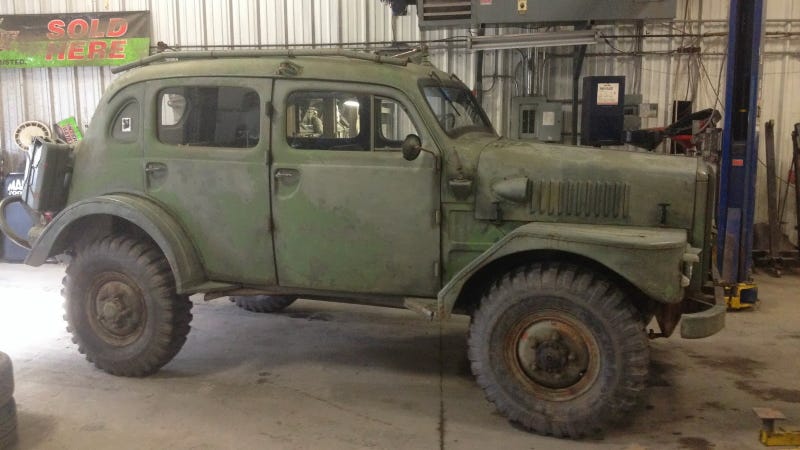 The Volvo PV800 Sugga (Swedish for sow) was built for fleet use and dominated the Swedish taxicab market for many years. The TP21 version was a 4X4 version built for Swedish military needs - which after WWII has been mostly fighting stampeding moose and trying to keep the Soviets feeling insecure.
The result was that not many of the TP21 military versions were built with an estimated 720 examples leaving the factory between 1953 and 1958, making any surviving examples rare pigs indeed. Find this 1957 Volvo TP21 Sugga for sale in New Haven, VT for $19,700 buy-it-now on ebay.
The old sow will need some reconditioning - or an owner who likes the look of a well patina'd military vehicle. This is one of those classic Volvo vehicles that would probably start (after some fiddling) each time you took it out, but something would also break on each trip.
Under the hood is a 3.6 liter Volvo ED inline-6 good for 90 horsepower...but on the plus side it looks like plenty of room for a powerstroke diesel or modern volvo i-5 turbo engine. Just don't put a Chevy 350 under the hood because it is entirely too predictable. Inifiniti Q45 V8 engines are cheap...
What better way to drive around and over the snow bound traffic at the next snow storm you find yourself facing.
Show us your war face with some other fighting vehicles! tips@dailyturismo.com
Originally published as 20k: The Sow: 1957 Volvo PV800 TP21 Sugga on Daily Turismo.
Image credits: ebay