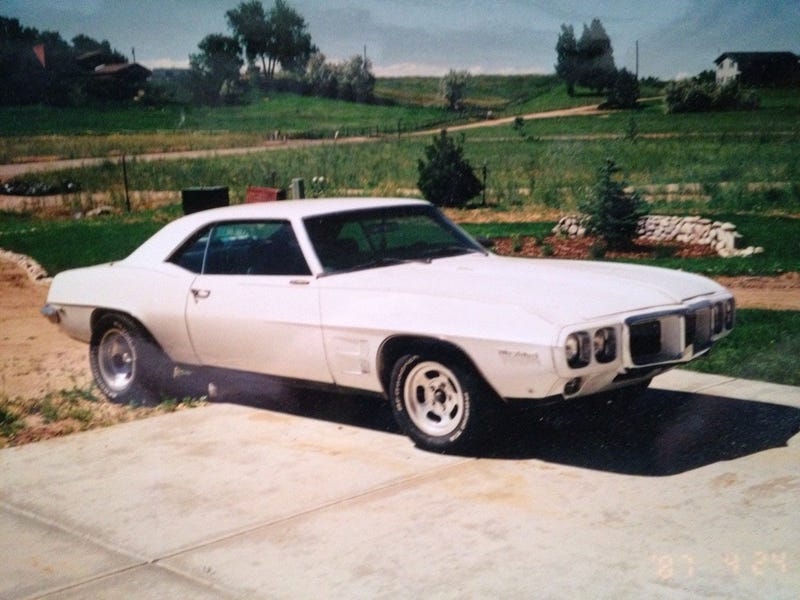 Okay, so I'm a couple months from 15 years, but close enough! In this post, which will probably be too long, you get to ridicule me on my inability to complete a project.
This is the story of my 1969 Pontiac Firebird "Savannah."
"That's a peculiar shot" you might say. "Why do you take a picture of a car half on a driveway." That my friend is a story involving a truck-b-que, an eager teenager and a failed wheel bearing.
You see, in November of 1998 I had been driving for about three months at the age of 16. My steed? A cherry 1985 F150 Lariat. It was a glorious piece of hick-approved Detroit metal. Low miles, the big 351 V8, off road package yada yada. Sadly, one November morning, the carb failed spilling fuel onto a hot engine and igniting it. That truck, was sitting in front of the Pontiac Firebird pictured above. I mention that pickup because without it's demise, I probably wouldn't have a classic Firebird sitting in my garage right now.
When I lost that pickup I didn't have any money for a new vehicle. That meant a three hour bus ride home from school. My parents, needing somebody to run errands for them were kind enough to buy me a replacement. I was grateful, but I hated that car. A 1990 Buck regal, complete with wire spoke wheel covers. My parents told me if I wanted something fun, I'd have to go it my own.
Most of my buddies in high school had muscle cars, either new or old. So that's what I started looking for. In April of 1999 i came across an add in the local paper for a 1969 Firebird with a fresh 455. The advertising party wanted 6500 obo.
At the time I didn't know what the old Firebird's were. I knew I liked the new ones though. Not knowing what to expect, I went out to take a look at it. It was rough around the edges, but it had potential! The car eventually would need going through, but it looked to be a solid driver. Something that I could have a little fun with through high school and work on with my old man. I decided this was the car I wanted. I didn't have anywhere near $6500 to spend though. On the advice of my father, I wrote a loan proposal to his parents. I couldn't work during school, but I did during the summers. With that money I would pay the loan back plus interest. To my surprise, they accepted my terms, but could only loan $5000. Fortunately I was able to bargain the car down to that price point, with some exclusions on some extra parts the previous owner had.
To say that I was ecstatic would be an understatement. I wanted to make sure I paid the guy as quickly as possible before he changed his mind, or somebody else swooped in and stole my car. That unfortunately meant a 15 mile trip home, in the rain, with an old and unknown vehicle.
We met the owner at his house and I handed him a check as he handed me the sole set of keys. Although the car was mine, my dad insisted on driving it home to check it out further than what we could prior to purchase. That's when things started to go downhill. As we turned off the dirt road he lived on, there was a noticeable wine coming from outside the car. It only lasted a second, but I remember looking at my dad and both of us giving a somewhat confused look and wondering what the heck that was.
A quarter of a mile down the road, it happened. BANG!! It sounded like a shot gun blast and the entire car jerked. We pulled over, thinking we may have hit a large pot hole. Visual inspection showed no issues. Tires full, wheels on straight, no sheet metal damage. We got back in the car and headed down the road, my mom following behind the whole time. Again, BANG!! This time we knew something was terribly wrong. The car now felt as it was anchored to the road. We got out to see that the passenger side front wheel was cocked inward at about a 45 degree angle. The only thing keeping it in place was the drum brake. It was pretty obvious what had happened. The wheel bearing (outer to be specific) had seized up and sheered the spindle in two. Not three quarters of a mile from where I had just purchased the car. Standing at the front of the car, looking at a near car-ending event, my parade was quite literally being rained on.
The gentleman I purchased the car from was incredibly sorry. He even offered to take the car back. Not so, I still wanted it. We just needed to borrow his flatbed to get it home, which we did. The next day he arrived with a new spindle and wheel cylinder which allowed us get the car off the flatbed. While replacing the broken parts, we started to notice the dismal state the rest of the suspension was in. Additionally, the passenger front drum had been destroyed in the incident. It would be prudent to replace all the wheel bearings as well as the drums and shoes.
After a couple weeks, that old burned up pickup made it's way to the junkyard and we finally got Savannah into the garage to be worked on. It was then that we got a good look at just how bad the car was. To make it safe, it was in severe need of some TLC. Never having driven the car myself, it was put up on blocks and we started tearing it apart. Originally it was just going to get new suspension pieces and new brakes. As we dug deeper we kept finding more wrong, which meant we tore more apart.
In the end the entire front end had been stripped, and cleaned, leaving us with sheet metal issues due to an obvious front end collision the car had earlier in life. The decision was made to go through the entire car.
Eventually, after several years of picking at it and replacing parts where money would allow, it ended up like this.
New sheet metal in the rear and my feeble attempt at a few patches in the front fenders. It was ready to hit the body shop for paint.
Of course, once there, the job continued to grow. We found more rot in the window seals as well as in the rockers. My patch was no good and couldn't be salvaged. New wings were sourced and installed. She finally left paint prison in September 2007, looking like this.
A vast improvement to be sure, but with a lot left to do. At this point I had garage space of my own, but I had grown tired of working on a never ending project. Although it was at home with me, I favored my other cars and the Firebird sat.
The interior was rotting pretty badly and while the engine was fresh and the transmission had been gone through, the rest of the the drive train and rear suspension needed attention. With my attention elsehwere, I didn't have much time or desire to tackle these issues. Eventually, around 2009 the car was put into permanent storage.
In the spring 2013 I decided it was time I get to work on my never ending project. I had the car brought out of storage and my Corvette took a backseat in the garage.
She's still there at this time and I'm slowly making some progress. I've got a new rear-end from Moser in the back along with spiffy new Hotchkis suspension pieces.
The never ending drum of a 45 year old car's ailments continue to beat however. After completely gutting the interior and working on the suspension, I found a bit of rot in the floor boards. Not a ton, but enough that I've decided to replace everything from behind the front seats back. I also found rot in the trunk around the shock mounts, which is yet another safety concern. To say that isn't just a little off-putting would be a lie. Yet, as I toil on with the project, there's light at the end of the tunnel. For a while, every time I touched the car, required my wallet and another order from Classic Industries. Now, with a heap of new parts and pretty much all of the old ones off the car, progress has picked up.
I may have been 15 years too late to take her to prom, but in the end, I think it'll be worth it.