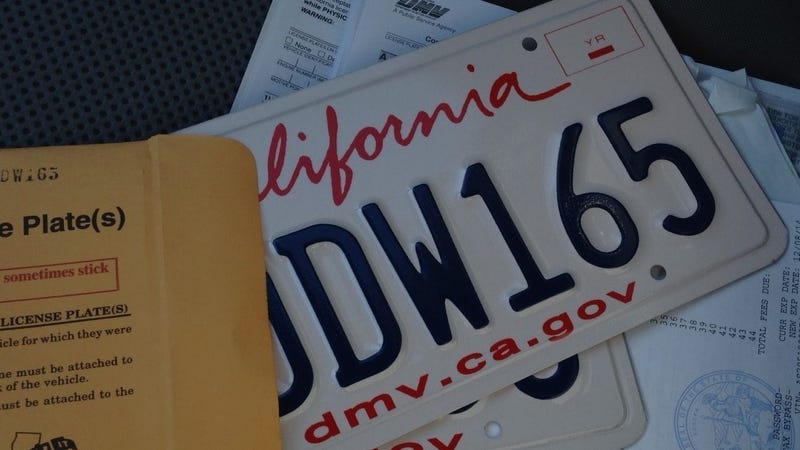 I have a disease. A disease that causes me to look at every vehicle/engine combination and say "No, no, no, you've got it all wrong!" A Fiero with an Iron Duke? WRONG! A Barracuda with a slant six 225? WRONG! A DeLorean with a French V6?
What are you, high?
Anyway, registering a car without a title. Twice now, I've come across soulless shells of cars, and thought "No Engine? You mean blank canvas!" and I pay something like $600 for a car that will eventually cost me $42,000 because, as those of you who have read my book know, the money you spend on a car project is a function of all the money you have to the power of infinity. The first of these terrible life decisions was a Dodge Dart. This Dart needed a big block, and it wasn't going to install itself. So I got the Dart, and I got a donor 1978 Dodge Magnum with a 400 and I went to work. This is not even a difficult task, the drivetrain drops right in with some engine mounts you can buy for about $150.
The problem with dropping a big ass engine in a small car is that it still has small car brakes, so I went ahead and upgraded those to discs all around. And while I was at it, I dropped in an 8 3/4 rear end, added fuel injection, completely redid the interior, made a new fuel tank, upgraded the cooling system, and built my own muffler which made the car as quiet as a coked up 6 year old with a drum set.
What were we talking about again? Oh right, how to register a car without a title. So after I dumped all my time and money into this incredibly loud big block piece of rolling 'Murica, I had to figure out how to get a license plate for it, which was somewhat of a challenge since neither I, nor the previous owner, had any idea what happened to the title, and since the previous owner wanted to help me track down the previous previous owner like he wanted dysentery. So what do I do? I own the vehicle, I have a bill of sale, and I'm fairly certain the car is not stolen.
Title Companies - Plan B
Fortunately, there are states with rather, shall we say, liberal vehicle titling requirements. I was living in Oklahoma at the time, and Oklahoma is not one of those states, which is surprising, since they don't require any yearly inspections and you regularly see cars driving around which may or may not have been hit by a tornado.
Anyway, these non-Oklahoma states have companies where, basically, you "sell them your car" and then they go to the state with your bill of sale and pictures and stuff and get an official document which they send to you when they "sell you back your car." You take this info to your local DMV and say "I totally just bought this car from a guy in Maine." And they give you a title in your state. This seems like the kind of thing that you'd get done in the back room of a shady bar through a guy your cousin knows, but it worked for me and my Dart. Of course, this was like 10 years ago and it cost me $350 and took three months. Also, they seem to have upped their prices and there are a few accounts online of some states not recognizing the paperwork they give you. So let's slot that into "Plan B" and see if we can find a better, cheaper solution.

In the early 1960's, Honda was doing well being the world's largest manufacturer of motorcycles, and someone said, "Hey, let's make a car!" To which someone else replied "No, let's make a street legal go kart with a motorcycle engine!"
And so the S600 was born.
About 50 years later, I found one of these sweet machines for sale in Oklahoma with no engine. Since we all now know that no engine = blank canvas, and since I am a diseased engineer who happened to have an extra CBR1000RR motorcycle engine in the garage, I think we all know how this turned out.
The problem was, I was no longer living in Oklahoma. I'm also a total cheap ass, which means I wasn't just going to give someone $800 to deliver me my car. So I did what any sensible cheap ass would do and I bought the cheapest tow dolly I could find on Craigslist and towed it back muh damn self.
Stick with me, I promise this is all relevant.
So I have this Honda with a Japanese VIN. Being a cautious individual, I just start throwing money at it and making it more go-kart-like than anyone at Honda ever hoped it could be, and I just assumed that I'd be able to title it at some point when I got around to it.
The DMV Nightmare - Plan C
Meanwhile I have this tow dolly which I notice works pretty well at towing motorcycles around when you bolt a 4x6 piece of plywood on the top. Now, in California, where this story is taking place, you don't need a tag for a tow dolly, but you do for a utility trailer. Since I had basically converted this tow dolly into a utility trailer, I went to the DMV with the trailer and said "I need a tag for my utility trailer." Of course, the people who work at the DMV know as much about the law as a goldfish knows about string theory, and they want to help you title your trailer like they want dysentery.
Knowing this beforehand, I did my research and determined that I would need A) an application for title, and B) a statement of facts explaining where the trailer came from, why it didn't have a title, and how much it, and the 4x6 plywood, cost me. I went to the local DMV and, after waiting for 62 hours, my number was called and I explained to the lady behind the counter the story, and showed her my completed paperwork. After interrupting me several times, asking me questions that I had already answered, and generally talking with the kind of condescension and self-assuredness you only find in inept government employees, she realized she had no idea what to do and went to find her supervisor.
I repeated the process with her supervisor, who found his supervisor, who listened to absolutely nothing I said and told me that I would need A) an application for title, and B) a statement of facts explaining where the trailer came from, why it didn't have a title, and how much it, and the 4x6 plywood, cost me. She wanted to see a bill of sale, but I didn't have one because I hadn't anticipated the need for one.
She was shocked, flabbergasted that I had purchased something without a bill of sale, and she told me that I needed one for everything that I purchased.
So there you have it, from a senior employee at the DMV; next time you buy a used kneeboard from a dude on Craigslist, you have to get a bill of sale.
Turns out though that you don't actually need the bill of sale. I just wrote on the statement of facts something about how I didn't remember who I bought it from, but it was about a year ago and it was from some dude in Orange County.
I paid my fees, got my VIN plate, my tags, and my title was in the mail. But before I left, I remembered that I had an old Honda at home without a title, so I asked, "Can I do this with a car?"
"We'd need a bill of sale for a car."
Awesome. I had another option: the DMV. However, I had decided that I wanted to go back to the DMV like I wanted dysentery, so I decided to slot that in as "Plan C" and look for a better option.
American Automobile Association - Plan AAA
This is where AAA comes in. I became a AAA member about a year ago and have since decided that it is God's gift to motorists. If you don't have it already, go get AAA. In fact, pony up for the extra tow coverage, because if you're reading this, there is a good chance that you own a jalopy piece of shit that will break down on you 85 miles from your house, and the stoner mechanic at Barstow Tow 'n Fix isn't going to know how to swap out the fuel pump in your SR20 powered 240Z.
Where was I going with this? Oh yea, registering a car without a title. So the other cool thing about AAA is that, is some states, you can do most of your DMV business there. This is an amazing decision for them, because competing with the DMV for business is like competing with Pol Pot for the Nobel Peace Prize. This is amazing for you, because they know what you need to do and they want to help you. That's right; there is a place where you can do your DMV business where they not only have the knowledge to help you, but also the desire to help you.
All this for significantly less than the thousands of dollars and left testicle that you would gladly pay to never go to the DMV again.
Anyway, now that you've made it this far, this is where I finally tell you:
How to Register a Car Without a Title
Let's summarize what we've learned so far:
Go to AAA.
Good, we're all up to speed.
So I learned a few important things while talking with the nice lady at my local AAA about getting a title. First, if the car is still in the DMV system from a previous owner, things get a little more complicated. Fortunately, there is some amount of time (7 years in California) where the DMV just doesn't care anymore, and vehicles are no longer in the system. So if you found a car covered in weeds in a pasture, and there is a copy of the November 1973 edition of Better Homes and Gardens in the passenger seat, you're probably good.
Second, if your car comes up as stolen, you'll probably lose the car, and the owner who it was originally stolen from will be super psyched that he not only gets his car back but that some fine young saint fixed it all up with a new engine and years of hard work for free.
Third, you have to have the car inspected by the DMV, a police officer trained to do inspections, or your auto club (AAA). If you have a buddy who is a cop, he or she may be your best bet. Having a cop as a friend is great, because not only can they help you out with stuff like this, they have lots of great stories. Anywho, AAA and the DMV generally don't inspect cars until they are otherwise legal and ready to be driven. I had to do some convincing with this one; my Honda was technically legal, but since I had not yet put any effort into the body work, it kind of looked like Optimus Prime took a dump.
What they are looking for is mainly that there is a VIN, that it hasn't been modified or replaced, and that the supporting documents (bill of sale) are actually talking about the same car with the same VIN. If the VIN on the bill of sale is slightly different than the VIN on the car, like if the moron you bought it from didn't bother to make sure the "6" he wrote down wasn't actually a "B", this is not a big deal. Apparently it happens a lot and they "have a form for that."
If your car doesn't have a VIN, they have a form for that, but since this didn't apply to me, I didn't look into it any further. If this applies to you, I recommend consulting with your local AAA.
Lastly, the state generally assumes that old cars don't materialize out of nowhere. It came from somewhere and they want to know as much as you do, and sometimes a little more. With my trailer, this was as easy as saying "It was never in the system because it never needed to be in the system." With the Honda, it was a little more complicated. I submitted the original bill of sale with a statement of facts that basically said "I bought the car from this dude, and he didn't have any paperwork because he never got it from the dude he bought it from." They AAA lady told me that they might kick this back to me and make me track down the previous owner to get him to fill out a statement of facts. Since he was not even enthusiastic enough to bother to double check the VIN on the bill of sale, I doubt he is going to take the time to fill out any paperwork for me. Fortunately, if you can't get this info, but you make some effort to contact the previous owner (like a registered letter returned with "no such resident"), you can use that to fill out a new statement of facts, and that might be enough.
Unfortunately, if it doesn't go through, you won't find out for a few weeks at least. When your title shows up, you're probably in the clear. But before it shows up, you may be driving around with license plates on a car that is not actually legally registered, so save the wicked burnouts until after the title shows up.
Of course, there are all sorts of different situations that may change the exact process: You have a newer car that needs to pass emissions, you have a grey market Subaru from Bolivia, you converted a boat to drive on land. If you live in not-California, the forms you fill out might be called something else. In any case, if you reside in North America there is an auto club that I mentioned once or twice in this article that might be able to help you. Alternatively, Google.
And there you have it; a concise, not-at-all-wordy explanation on how to register a car without a title. Normally I would try to come up with some witty ending here having something to do with goldfish or dysentery, but since we're approaching novella territory, I'll just leave with this:
Seriously, get AAA.
Matt Brown is the author of Racecar: Searching for the Limit in Formula SAE, which is a book that is only slightly longer than this article.