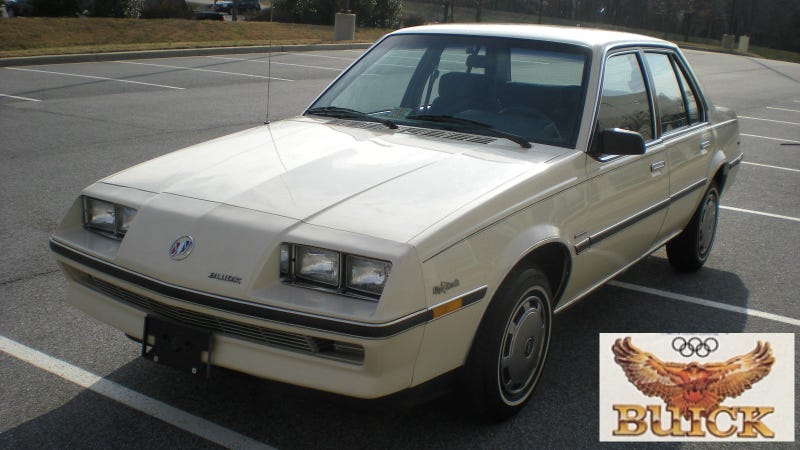 If you are a car guy on a budget, you may be tempted to pickup a high-mile, beaten-down example of a popular/good car; but don't! The easiest way to enjoy motoring for low bucks is to pickup the best example of the worst car you can find.
To find the best worst car for daily commuting you need to harness all of the evil from ebay's search feature and hope for the best...err...worst. The 2nd generation Buick Skyhawk hails from dark days of the oldest American marque still for sale today and is a horrible automobile. Perfect. Find this 1985 Buick Skyhawk for sale in Millersville, MD currently bidding on ebay for $499 with no reserve and 5 days to go.
The Buick Skyhawk (1982-89) was built on GM's newly re-designed J-body platform and shared basic components with winners like the Cadillac Cimarron, Chevrolet Cavalier, Oldsmobile Firenza and Pontiac Sunbird. GM made the unfortunate move of designing the J-body from the beginning as a plastic-y front drive pile of junk. The only redeeming aesthetic item on the Skylark was the nose that looks like it came off an 80's Z-28.

Pop the hood...and just walk away. Don't bother trying to get into the details of the 2.0 liter LQ5 inline-4cylinder engine supplied by GM, as 85 horsepower from a TBI setup isn't sweet. At least this one is equipped with a manual gearbox.
The only redeeming quality on this particular Skyhawk is the apparent minty clean condition of the exterior and interior. The odometer reads 21k but the seller claims 121k; but it could be 221k for all we know. Bottom line, it doesn't look bad at all for a $500 car.

Therein lies the lesson from today's Skyhawk feature. You want to enjoy cheap motoring? Don't buy the worst example of a good car...instead get the best example of a horrible car and maybe you'll find someone to buy it from you in a year when you want to dump it. In fact, when the time comes, just email us here: tips@dailyturismo.com
Originally posted as 0.5k: Best Worst Car: 1985 Buick Skyhawk on Daily Turismo.

The seller has mistakenly identified this car has a Skylark and at first we played along- it is indeed a Skyhawk as pointed out by DT commenter Type44.

Image credits: ebay, productioncars.com