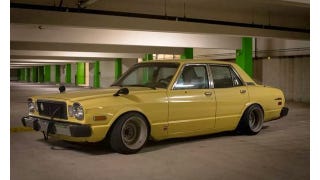 The Toyota Cressida was the US Market equivalent of the Toyota Mark II and is usually seen in original grandma or abused grand-kid condition; as a counterpoint, it is interesting to find one that looks loved and customized. It won't be the fastest car around, but for the price of admission it could be a fun show.
Find this 1980 Toyota Cressida Sedan X32 for sale in Mission Viejo, CA for $3,900 via craigslist. Tip from Ryan McK.
The seller has done a manual transmission (W58) swap, so this should be a fun car to drive around, even with the original 2.6 liter 4M-E inline-6 good for about 100 horsepower. The wing mounted side view mirrors are sorta cool and the only objectionable thing on this car are the wheels - but that is an easy fix.
Speaking of fixing things - the seller includes a picture of work being done on the car, which is accomplished with the following tool kit: Screwdriver, drill, Crescent wrench, Mtn Dew & skateboard. If that isn't a millennial's disaster kit, I don't know what it is.
It looks like someone is trying to jump start this thing, but those lines are external oil cooler hoses which are all the rage in JDM styled custom cars. With the new wheels it could use a few additional inches of ground clearance, but the interior is a hideous collection of plush velour.

See another mild bosozoku style Cressida? email us here: tips@dailyturismo.com
Originally posted as 5k: JDM Style: 1980 Toyota Cressida Sedan X32 5-spd on Daily Turismo.
Photo credits; craigslist.