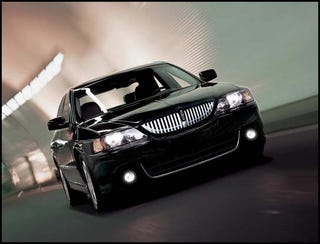 Behold the Lincoln LS. It wasn't too long ago that everything we wish Lincoln would do, did. What am I talking about? Well a rear-wheel drive, V8 luxury sport sedan. In fact it's only been 7 years since the last LS sold.
It's quite hard to imagine a Lincoln that wasn't a rebadged Ford. I could rant about the mediocrity coming out of the current Lincoln lineup, but I'm not. Today, I would like to talk about one of the greatest missed opportunities Lincoln ever had. This is a car easily forgotten, but still in my opinion one of the best cars to come out of Lincoln since the 20th century.
The year was 1999, the dot-com boom was in full swing. Markets were great, millionaires were made over night, and Lincoln's prime competitor was producing absolute garbage. Of course I'm talking about Cadillac, they were beginning to falter over one of the worst car launches they had, the Catera.. The conditions were ideal for a gamble. Possibly one of the only opportunities to take on the almighty BMW.
The Lincoln LS v6 and v8 was born.
It was developed with a joint partnership between Ford and then Ford owned Jaguar. Using the DEW98 platform, the Lincoln Ls and Jaguar S-type were developed. Later down the line it was to be used for the next gen Ford Mustang, but was never fully utilized. The only other 2 cars ever to be used from this amazing, and very expensive platform, was the Ford Gt and Ford T-bird. You could count the S-types replacement the XF as well.
It had a suspension rumored to be inspired by F1 engineers.
Rear wheel drive with independent rear suspension, gasp. It was set to rival the 5-series through and through. 50/50 weight distribution, even a Getrag manual 5 speed. Even the engineers somehow got through the bean counters, it was truly the most technological car to come out of Ford in a long while. All speed traction control, Advance trak stability control, even a hydraulic cooling fan similar to the Vipers.
The engine line up included the 4.o AJ-V8. It was actually de-bored to 3.9. It was a smooth engine providing balanced performance. The second gen LS 3.9 produced a then acceptable 280hp and 286 ft lb of torque (remember this is 2003). The V8 was paired to Ford's 5 speed auto while only the manual Getrag was optional on the Duratech V6.
So what happened? How does a well developed sport sedan that could compete with the 5 series just get shoved into Ford's waste basket. Well now I will tell you about how something so promiseful could be so royally messed up. I mean they even had a head start against the CTS which wasn't released until 2003, the same year as the Gen II Ls but it was too late.
1. It was supposed to be sold in Europe. This expensive gamble had high sales targets, sales in Europe were crucial until management decided it would dig into the sales of the S-type.
2. Dealers. This was supposed to compete with European sports sedans. It didn't help that dealers were selling this as a "baby Continental or baby Town Car", and putting carriage tops onto them (An exec at Ford was rumored to threaten to break dealers legs if he saw another carriage top on them over a dealer wide conference call).. The marketing budget was also small. Lincoln just failed to show what they had.
3. Cost to own. Well the engineers delivered a BMW rival, they also rivaled them in reliability and cost to repair. The first gens were riddled with timing chain tensioner problems, not to mention a BMW like design cooling system which requires an overhaul before 100k miles. Gen II LS didn't have as many problems but once again it came too late.
Almost the second it came to be produced, it was left to dead. A platform too expensive, and a market too competitive. The LS leaves a story filled with drama. The head designer stepped down soon after. Just think what could've been if the LS was still today. I think XF with a Lincoln badge.
Now some of my favorite commercials.