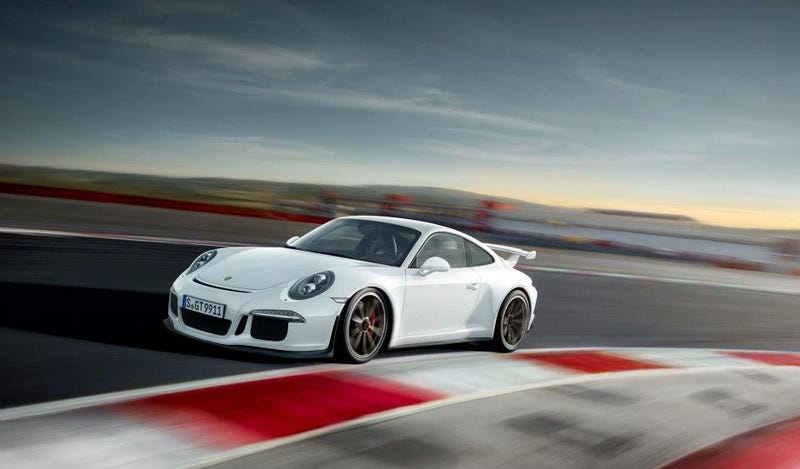 We're nearing the end of 2013, and it's around this time where we start to reflect on the whole year, specifically the year of automobiles. 2012 had some pretty cool debuts such as the BMW M5 and even fast sports-utility-vehicles like the ML63 AMG.
However, 2013 was less about the 'normal car turned fast' and more about cars that were built to be fast in the first place. Below we have listed our top 5 car debuts of 2013. This list is in no particular order.
McLaren P1
The P1 is McLaren's successor to the F1 from the 90's. It was created to rival with the likes of the LaFerrari, Huayra, 918 and Agera R. The P1 boasts 903 horsepower, can hit 62 mph in less than three seconds, can hit 186 mph in less than 17 seconds, and will run into an electronic wall at 217 mph.
Porsche 991 GT3
The 991 GT3 is a direct successor to the 997 GT3. The new GT3 features a naturally-aspirated 3.8-liter flat-six engine which develops 475 hp and has a rev limit of 9,000rpm. This power is sent to the road via a seven-speed PDK double-clutch transmission with unique steering wheel paddle-shift. The GT3 also features innovative active rear-wheel steering which increases cornering agility and enhances high speed stability. Combined, the 991 GT3 will accelerate from naught to 62 mpg in 3.5 and will reach a top speed of 196 mph.
Ferrari 458 Speciale
Being the successor to the legendary F430 Scuderia, the Speciale had a lot to live up to, and it did. The 4.5-liter V8 in the Speciale makes 597 horsepower at a 9000-rpm peak unlike the regular 458's 562 horsepower. This is made possible by a14.0:1 compression ratio, revised combustion chambers, new pistons, shorter intake runners, reshaped intake ports, and higher lift on the exhaust and intake valves, along with a new carbon-fiber manifold and airbox.
Jaguar F-Type R Coupe
After the success of the F-Type Roadster, Jaguar gave the Coupe variant a green light and with its unveiling came the 'R' version which packs 550PS 5.0-litre supercharged V8 engine enabling acceleration from 0-60 mph in 4.0-seconds, and a top speed of 186 mph (limited)
Mercedes-Benz S63 AMG
Although not appealing to many, it appeals to the family man who wants the perfect blend between luxury and performance. The S63 AMG features AMG's M157 5.5-liter biturbo engine which produces 585 horsepower and a mad 900 newton meters of torque.