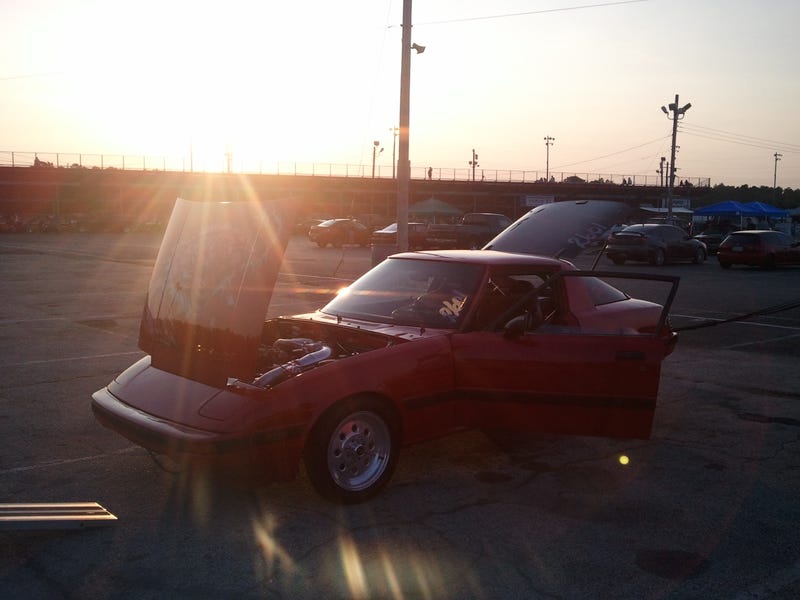 Now that we have addressed the most powerful car you've ever driven, whats the fastest car you have even been in, but did not pilot?
"Working" or more, spending time at a shop that specializes largely in drag cars has its perks, one is that a few years ago a friend of the shop gave me a ride in his 10 second "street" first gen Rx7. About 600hp and 2500lbs makes this car pretty stout. Its been off the road since not long after this picture was taken (2012), and its about to be back with 800-900hp looking for 8 second time slips haha
We went behind the shop, did a small burnout, sat there, the RPMS raised he hit the nitrous and got off the brake and launched, it was the craziest experience of my young life (i was like 13, in 2010). then we did it again.. when we came back i was speechless, and gave up video games after i got home because i couldn't feel that rush again from them.. ive been in a lot of fast cars, but this car is the holy grail so far..
That, or a supra me and my uncle were out tuning on the highway (shut up, i dont want to hear it, i know its not safe lol).. 850hp made it totally worth cramming in the back seat of a 4th gen supra..
(yes, i enjoy using the sun too much)
SO, after all that nonsense, what say you oppo!?