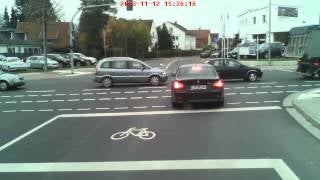 Original Article:
http://jalopnik.com/watch-a-bmw-dr…
Video was removed by original poster because of this response:
"HI KOSLOWSK GROßER HÄUPTLINGI!

ZU DIR SCHREIBT DER IDIOT DER DEN UNFALL GEBAUT HAT AN DER SCHÖNEN BMW BECKER-TIEMANN KREUZUNG.
ICH BIN DER IDIOT DER DEN UNFALL GEBAUT HAT UND DU DER WEDER MEIN GESICHT NOCH DAS NUMMERNSCHILD VERSCHLEIERT HAT.DAS VERSTÖSST GLEICH GEGEN MEHRERE GESETZE UND WIRD WEIL DAS VIDEO SICH SO GUT VERBREITET EINE SCHÖNE SCHADENSERSATZ-KLAGE NACH DEM BGB AUF SICH ZIEHEN.
DA DU WEDER MEINE EINVERSTÄNDNISERKLÄRUNG HAST NOCH DAS VIDEO ÖFFENTLICHKEITSWERT HAT WIRST DU DAFÜR BLUTEN,SAGT ZUMINDEST MEIN ANWALT.DA WÄRE Z.B.DAS DATENSCHUTZGESETZ,DAS RECHT AM EIGENEN BILD(DA ICH KEIN PROMINENTER BIN),PERSÖNLICHKEITSRECHT....

WARST DU NICHT DER; DER DAS VIDEO DER POLIZEI SCHICKEN WOLLTE ALS DU VON DENEN BEFRAGT WURDEST,MIT DER AUSSAGE ,,ICH WEISS NICHT OB DIE KAMERA ES GEFILMT HAT,DIE MACHT WAS SIE WILL...,,

ALSO NIMM DAS SCHEIß VIDEO RAUS...."
Google translate doesn't really help much..
"HI KOSLOWSK HÄUPTLINGI BIG!

TO YOU WRITE THE IDIOT OF THE ACCIDENT HAS BUILT AT THE BEAUTIFUL BMW BECKER-Tiemann INTERSECTION.
I AM THE IDIOT OF THE ACCIDENT HAS BUILT AND YOU EITHER OF MY FACE OR THE NUMBER PLATE veiled hat.Das DOES THE SAME TO SEVERAL LAWS AND IS BECAUSE THE VIDEO IS SO GOOD SPREAD A BEAUTIFUL TORT ACTION OF BGB ON TO PULL.
DA YOU EITHER MY CONSENT HAVE STILL THE VIDEO YOU WILL ENSURE PUBLIC VALUE HAS BLEEDING, SAYS AT LEAST MY ANWALT.DA WOULD ZBDAS PRIVACY LAW, THE RIGHT ONE'S OWN IMAGE (AS I AM NOT A CELEBRITY ENTER BIN) PERSONALITY RIGHT ....

WERE YOU NOT THE, OF THE VIDEO OF THE POLICE WANTED TO SEND YOU AS ONE OF WHICH WERE CONSULTED WITH THE STATEMENT, I DO NOT KNOW WHETHER THE CAMERA IT HAS FILMED THAT DOES WHAT SHE WANTS ...,

ALSO GET THE FUCK OUT VIDEO ...."
UPDATE
Translation by Apollon (http://oppositelock.jalopnik.com/translation-hi…)
"Hi Koslowsk, big wig!
Writing to you is the idiot who caused the accident at the BMW Becker-Tiemann intersection.
I'm the idiot who crashed and you are the one who covered neither my face nor my numberplate. That violates several laws at once and because the video has spead so well, it will entail a claim for damages according to the BGB [German civil lawbook].
Because neither you have my declaration of consent nor does the video have public value, you will bleed for that, says at least my lawyer. There we have the data privacy act, the right in one's own image (because I'm no celebrity), personality right...
Aren't you the guy who was going to send the video to the police when they were questioning you, saying 'I don't know if the camera filmed it, it does what it wants...'
So take the fucking video off..."