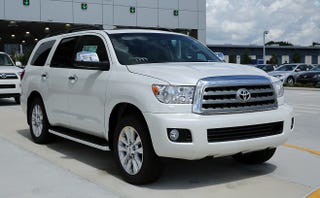 We looked at a Toyota Sequoia... very nice truck inside and good pickup, great 4WD system... but the $53k price is a bit much. Toyota said $4k down, lease for 36 months for freaking $560 a month...
So my Dad went to look at a Pathfinder but I STRONGLY suggested don't see it as a viable option cause it's not what it used to be... unibody, CVT, 4WD system is fine but we drove both and the Toyota had a better 4WD system... you could tell the rear wheels were doing just what it was supposed to in 4-lo + locker enabled.
Looked at Durango, but no locking diff so that's a no. Trying to get them to look at a Tahoe... and no, they'll NEVER EVER EVER buy preowned/used/etc. Silly, I know.