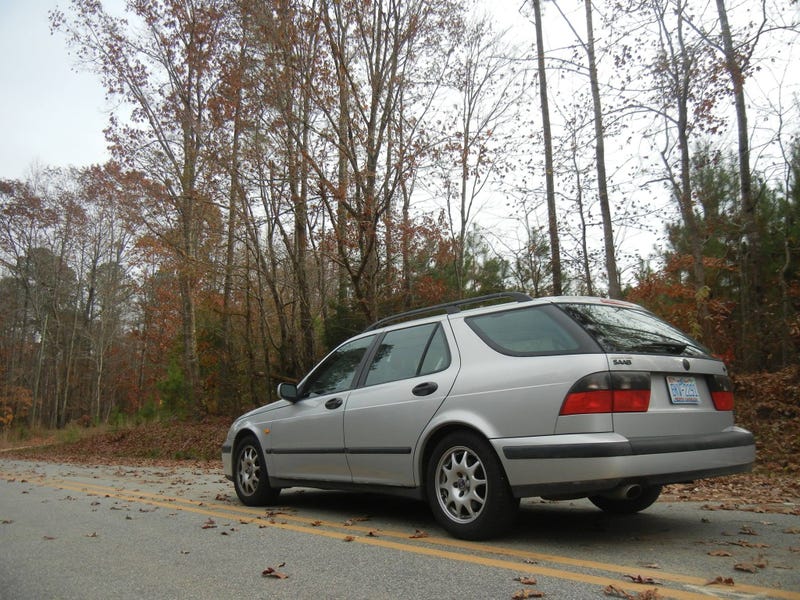 (Disclaimer: Saab Spyker NEVS somebody wanted me to review the 14 year old 9-5 wagon so badly they made one park behind my neighbor's house for a year and then told the neighbors to sell it to me (with a busted water pump) for $400. I also love this car, so the review might be very biased. She's also my best friend)
I recently read this review of somebody's first car and thought I would go ahead and write a review about my first car. My car is my best friend. All my friends acknowledge this and have decided that whenever we have to drive somewhere together that we take my car since I genuinely enjoy driving it her so much that they don't want to see us parted unless it's totally necessary. I say her because she is a living object. My living obsession. She has been christened 'The Silver Moose' and is my personal road faring vessel. My vehicle of choice, narrowly beating out Helena, my 1965 Dodge Dart who will be getting a review soon.
This is my 2000 Saab 9-5 wagon with a 2.3 liter turbo charged engine with a 5 speed manual transmission. It had 170 horse power when it left Trollhatten earlier this millennium. It's the base with the premium package, which included a nicer radio and leather seats. Here is the review:
Exterior: 8/10
It's a Saab.
But seriously. The NG 9-5 wagon is one of the prettiest cars ever produced and this first gen 9-5 wagon deserves similar praise as it was the equivalent of it's time period. The D pillar is black as to make the rear window look as if it's wrapping around the car, like a hug. The C pillar is thick enough to act as a roll cage. What other wagon has a C pillar with enough width to be painted? Older Subaru. That's it. And that's really where the beauty lives in the first gen 9-5 wagon; the pillars and roofline. The 10 spoke wheels, as the may be dated can clean up really well and compliment the metallic silver paint. While other cars may look beige in silver, the 9-5 wagon (and all other Saabs) rocks silver. It highlights the beautiful curves and flowing design of the body. As for the paint quality, aside from minor deer damage (would you ever guess this car hit a deer?) on the hood and one clear coat chip on the rear passenger side door the paint is in great condition for being 14 years old. The roof rails compete the design complimenting the black plastic trim. The trim isn't gaudy black/gray cladding like a Jeep Grand Cherokee or a Honda Element; it's a nice subtle dash of darkness exaggerating the smooth lines of the sides and the graduated curves of the bumpers. To summarize how I feel about the exterior of this car I must say, that in my 1 year of owning road testing I could not once walk away from this car without looking back and admiring it's Scandinavian design. It's tail sports an OPPO vinyl sticker as well as a Jalopnik sticker just above the Saab lettering. The rear lettering has been plastidiped over along with the naked Saab badge. I've never liked having chrome lettering where there is no chrome anywhere else on the car. I also plastidiped the grill as the chrome was fading and I thought the chrome looked silly. I'm not a chrome guy.
Interior: 6/10
Despite being owned by GM in the late 90s, Saab managed to get some decent materials to craft it's driver oriented interior. 2000 was the last model year before GM took complete ownership of Saab. This made a huge difference. I have two friends with 2001 9-5s (automatic sedans) with interiors that are very loud. 2000 was also the last year of the Saab-Scania logo. Mine has a soft touch almost cushion like dash board that attracts dust quiet easily. The famous/infamous Saab folding cup holder works 75% of the time which can be annoying. The center ignition fascinates passengers of all ages. The leather seats have been well taken care of showing no tears and minimal fading. They have lasted very well compared to Volvo's my friends own of a similar vintage. I would not hesitate driving many hours in these seats. They are very comfortable and heated. I could sleep in them if needed. But if I had to sleep in my car I would go for the back where I have plenty of room to spread out and take naps with the rear seats folded down. There is something like 7o cubic feet of cargo space back there with the seats down which is reason enough to own a wagon, never mind the stellar looks.
Audio: 6/10
Despite being a 2.3 liter, this 4 pot can growl. Accelerating rapidly in 2nd gear makes me feel like a rally car driver and down shifting creates a beautiful cacophony of turbocharged symphony. Idling is quiet, but it is supposed to be a luxury car. The demonic engine note comes on demand but hides when it's not wanted. You can drive on the highway at 70 miles an hour and all you'll hear is wind noise and something that sounds like an engine but could be about 5o feet away. Or you could be flooring it in 2nd gear and loosing traction waking up the whole neighborhood. It makes a nice noise. The stereo is good. It included a tiny sub in the back which is nice. It has a built in weather band radio which is just a Saab thing. I also installed a CB, but that's not part of the car so I can't really give it credit for that.
Handling: 5/10
She will go wherever I tell her to. No more. No less. Body roll only at extreme speeds (55 around a 25 curve). It's FWD so under steer is a thing. Saab's did FWD before it was cool though, so it's all good.
Fuel Economy: 6/10
I can get 35 highway and 19 city. I average at around 24. Not bad for the fun it can have/ amount of stuff it can hold.
Value: 11/10
I paid $400 for her. I got the stag of a machine I just reviewed. Sure, I've put about $1100 into maintenance, but that's any car with 177,xxx miles. They made this car for 10 years so parts are readily available despite no more corperate parts company or dealer network.
I love my car. Scoring is irrelevant. It got a good score. Happy?