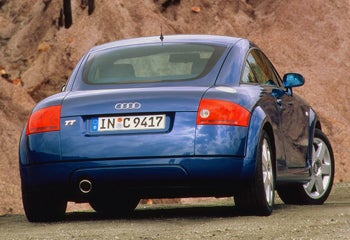 "The two best days in a boat owner's life are the day he buys it and the day he sells it."
—Ancient Proverb (Probably)

Over at The Truth About Cars, Steven Lang writes about "The Almost Car". Not your dream car that costs more than your house, but the car you first lusted over and now, theoretically, you can afford. I have fallen into that trap. Literally within a month of getting my first steady salaried job I was at a Mazda dealership buying a used 2000 323Ci coupe with about 90,000 miles on it. This was not a smart purchase. Not only did I finance it at a ridiculous interest rate (think double digits), but I didn't even really check it out. I test drove it at rush hour and probably never went over 30 mph. In fact, the salesperson didn't know how to drive a manual so I had to back it off the median it was parked on. (I would later find out it had a flat spare tire on the side of the interstate, as well). But It was perfect shade of blue, it had a five speed, it was a freaking BMW! I could afford the monthly payments. It was perfect right? Right?

We all know how this story goes.

In fact I would later lose about $7500 on a trade for a used Scion (impossible you say?!? Sadly, very possible.), which I would then trade for a 2006 BMW, which tore up four rear run-flats in two months due to a poor alignment, so I ran to the BMW dealership and traded it in to lease a MINI. Now the MINI is gone, so basically I am still paying for a car I haven't owned since 2009. All I have left is the shift know of the '06 BMW that I swapped out for an "M" knob. In a very real sense I own the most expensive shift knob in the history of time.
Anyone want a 2006 BMW shift knob? Bidding starts at $13k.
So really, I'm out of this conversation for quite awhile. But that's not why we visit car blogs and websites daily. We are stupid about cars. We watch videos like this in which nothing happens. We click on articles solely dedicated to the updated specs of the Nissan Juke. And really, if I squint real hard and I get a raise at work and the dealer somehow forgets to run my credit, one of my former dream cars becomes tantalizingly available. One car I consider the most gorgeous ever produced, the 1998 Audi TT. Sure some people say it looks like a squashed New Beetle, some say the 5-valves-per-cylinder 1.8 liter engine is not terribly reliable (including my friend who has worked as a Volkswagen mechanic at a dealership for 12 years (he even won an award once, too)), and others just say that's a stupid dream car and not at all cool like the cars built on the Fox platform that they search Craigslist daily for....but that's what makes it available and almost "attainable". My dream TT is just like the one in the picture, in denim blue and minus the spoiler that was added about 6 months into production because it proved woefully unstable at Autobahn speeds. I'd even accept FWD if necessary, just to get those lines. Not Tiptronic, though (even dreams have their limits).

So I think about this car, and continue to make payments on cars I no longer own. And I know that it would be a terrible mistake, but a car guy has gotta dream (and keep up to date on the latest Nissan Juke news) right?

What about you? Is one of your former dream cars getting in the "attainable" range? Would you pull the trigger on it?