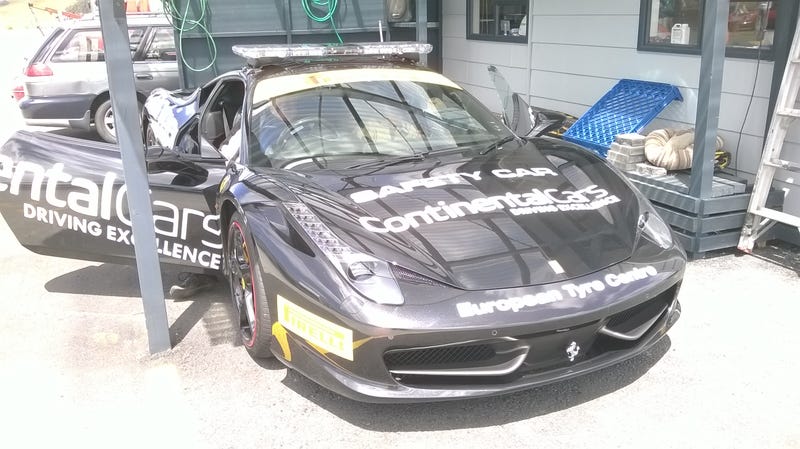 Day one (Friday) of the Ferrari Festival of Motor Racing, straight from Hampton Downs Motorsport Park, Waikato, New Zealand.
This will be kinda photodump, kinda daily writeup. I do apologize for the lack of photos, or the fact that they are taken with an overexposed potato. I will try to explain the photos in depth, sorta.
Right, to start off, let's cover support vehicles for the weekend. First up we have our Fire, Medical and Recovery/Secondary Fire vehicles.
From left to right we have: F1, or Fire 1. This is a VE model Holden Commodore SV6. It has a 3.6L V6 engine, RWD and this particular model happens to be an ex highway patrol car. In the middle we have one of our two almost identical BA model Ford Falcons. This is the XR6 Turbo model (the other one is an XR6 non-turbo) and once again it is RWD. We beat on these two pretty hard. Finally on the right we have our Ute, a Great Wall V240. (I had no better pictures). This is pretty gutless, but it works well as a tow vehicle for recovering stricken racecars, and it has the mother of all foam extinguishers in the tray.
For a Safety car and Course car, we have these two beauties:
A black Ferrari 458, for the safety car (looks weird with the light bar)
And an FF. Both provided by a very nice dealership.
Now, onto the events of the day!
It was quite uneventful, since there was only practice and qualifying but the lunchtime exhibition was awesome. An old ferrari 3.0L NA V12, and a twin turbo 1.5L V6. Turn up the sound.
There were also a number of rather cool cars there, including a quad turbo V12 Morgan looking thingy, a 308 LM, two NASCAR's (Apparently they had some sort of significance but I don't know what), a fair few Formula 5000's, a F5000 with a, old Camaro body on it, a modified 458 Challenge, and three gulf liveried Porches.
PHOTODUMP
Blending in?
458 Challenge
Some of the F5000's
Part of the Historic Formula Ford class
More pitlane and a 2002ti
One of the NASCAR's
Our Safety car, and our beloved Safety car driver
A Z32 that was doing exhibition laps
The most beautiful 8-Series I have ever seen, a perfectly clean 850 Alpina
The other NASCAR
A beautiful ZakSpeed Escort
The F5000-turned-Chev monster
The Gulf Porches
For all those straight six lovers out there, an XF Falcon with a very nice I6 race motor
This thing is MAD. A quad turbo V12 that was doing demo laps.
The 308LM
For all those BMW fans out there...
Another pic of R1
More 458!
The BMW open class, a couple of M3 GTR's and a M3 WTCC in here
And to finish, possibly one of the most jalop images in existence. An NA MX-5, SW-20 MR2, an Elan, and a rare Ferrari that I can't name. (400? Mondial?)
Well that's it, Day one of the Festival has concluded and I have not sat down between 7:45 this morning and about 5:00. Live long and Oppo.