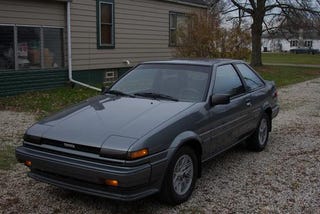 1987 Corolla GTS with 147K miles and stock.
Let's see what the seller has to say about it...
So your neighbor has a Gold Plated Lambo too? Don't have to worry about him pulling up in this. Facing extinction, this may be the most original, documented, and functional AE86 GTS's in existence. This is a 1987 Toyota Corolla GTS. I purchased this vehicle off the original owner. The original owner ordered it new April 17 1987. I have the physical order sheet. The vehicle was built late April 1987. Being that 1987 was the last year of this model, this may also be one of the last batches built. I also have the original Window Sticker showing all ordered options. This vehicle was/is stored winters in a heated garage. The original radio is gone, but the rest is there and complete. This vehicle has been well taken care of, and sports original paint. Has factory sunroof and LSD (which is very tight from the factory). Starts up and runs smooth, drives fantastic. This car is NOT perfect, and I'm not claiming it to be. However, it's original condition and rarity are what reflects in the price. It has some blemishes, but would make for an easy restoration if wanted. And it's still a show stopper in it's current condition. I consider this vehicle a work of art. A work of art you can take out and enjoy, and then display if wanted. The experience of owning and driving this car is exclusive. This specimen of Japan's great legend few can share. They're may be another few out there, it's certainly possible. It's also possible that there isn't. I can be contacted by e-mail. If legitimate I can be contacted by phone or e-mail after that. International buyers are welcome. Any and all shipping logistics are buyers responsibility. I will be happy to review complete condition and blemishes as well as history with any serious inquiries. Please do not waste my time if you are not willing to negotiate serious offers. I don't need to share or sell this piece. It will only be sold under fair conditions, to a rightful owner.
So the car isn't perfect, and still may be a DD. How much is he asking?
10K
20K
OMFG?!!? $65,000