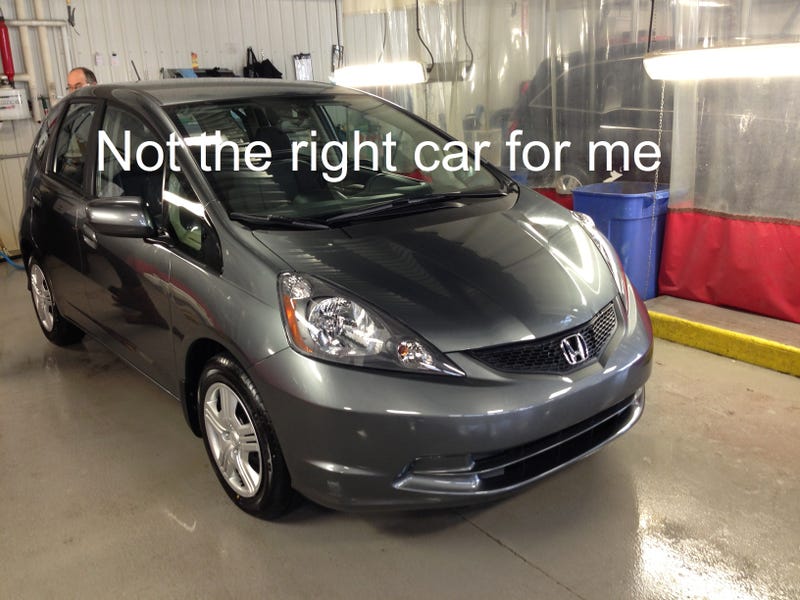 And so approaches the end of a 9 month relationship with my Honda fit. Warning, rant ahead!
Why, you ask? Because it's the wrong fit (get it?) for me and my personal needs. I loved it at first! It was fun in the city, fuel efficient and incredibly roomy and versatile!
However, I used that versatility only once and the positives(for me) stopped there. It's too underpowered to be a useful highway and winding country road cruiser (Speed limits on said country roads are 55 and 62 on the highway) as it struggles up steep grades even with a downshift and is utterly useless for passing safely on those single lane country roads if you get stuck behind a snail. The brakes are, to be kind, the opposite of confidence inspiring. Did I mention the engine drone at 110kmh/70mph?
Road comfort over our great Canadian rough pavement is total crap even when compared to the rest of it's subcompact stablemates. It seriously makes my Mustang with upgraded sway bars feel cushy over broken asphalt! The rock hard poorly supportive seats don't help and get my 26 year young back cramped up after 30-40 minutes of driving only.
The worst offender: The driving position. The high-up, non height-adjustable chair/SUV like driving position means my right foot is at an odd and straining angle to hold the throttle at a steady speed for more than 30 minutes (Like going to my girlfriend's family camper about 87 miles away, which is done on country roads with lots of twisties and traffic which makes using the cruise control impossible) a very very painful ordeal for my ankle and knee. It's too high up and, when taking into account the proper position to properly depress the clutch, too close to get a comfortable angle for my legs. And, at 5'10", I don't consider myself short.
Oh and, the heater is total garbage and absolutely useless once the thermometer dips under -20C/-4F. I once had it on at full blast on my drive to work when it was a little colder than those values and, despite warming it up for 10 minutes beforehand, I was still freezing in my car after 30 minutes of driving. By far the weakest heater I have ever experienced.
About a month ago, I drove my girlfriend's brand spankin' new 2013 Honda Civic - with a 5 speed stick because she's awesome - for a total of 120 miles in two days and it was a total revelation: The new crop of compacts are pretty amazing and a huge step up from my fit in quality, comfort and refinement to the point where they feel more upscale than they really are. I was comfortable for the entire trip with zero issues with a perfect driving position and supportive seats, the ride with the IRS was supple and forgiving without being sloppy, the brakes were worry free and the seemingly meager 140HP was adequate for highway cruising and passing. This experience made me start yearning for an upgrade, though I resisted the thought at first.
Then, a little over a week ago, I started browsing the online configurator for a manufacturer to check out their latest compact offering and was blown away by what I could of had for not much more money had I gone that route. I started to want one badly. I first started checking out this model online because of it's solid reputation for fun, I then took the time to check out comparison reviews and videos to weigh it up against it's competitors and compile that with my own first hand experiencing seeing and driving some of these models, mixed with some of my friend's own testimonials about their own compacts, and stuck with that first model in mind.
Saturday, I went to the dealership to get a quote on the car and my trade-in for fun. Advised the saleslady that, truthfully, I needed the right deal and the right no-charge included accessories(remote starter, 3M clear bra, top brand winter tires) to truly be swayed, and so we discussed a preliminary deal. I walked away after agreeing to come back the following Tuesday for a proper test drive, since it was close to closing anyways and I had other plans, before talking any potential serious negotiations.
In the meantime, I ran my numbers to make sure the financial picture was Kosher. Realized I worry too much.
Then on Tuesday, I go for a test drive, fall in love with the driving dynamics and the amazing interior and start negotiating. Got an okay price for my trade-in(car was involved in a fender bender two weeks after I took ownership of it but the biggest casualty was my 8 years of driving pride) and MSRP for the new model itself, but got the clear-bra, remote starter and Bridgestone Blizzak tires included at no cost plus got steelies and weathertech floor mats included at a greatly reduced price. I find I could have been more pushy and felt a bit soft but the saleslady admitted that she hopped she wouldn't get too many customers like me in the future. Signed the deal and was approved for financing, the car came in today and will be ready on Tuesday. Needless to say, I am excited and impatient!
I'll let you guys guess what the new car will be. Hint: It's currently considered the best compact you can buy according to many publications and has won at least one buff book's annual award. It will also be Red, because fun.
The official revelation will surely come next week! If I don't crack in the comments below beforehand.