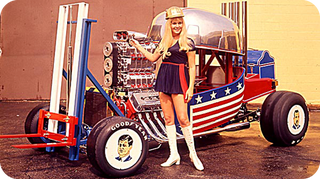 Ok, whenever I get bored I usually dive into the "Internet", and by this I mean Ebay, Craigslist, Wikipedia, YouTube and of course our favorite blogs. Today's journey lead me to this, evidently a George Barris creation known as "The Hard Hat Hauler."

If you are not familiar with name George Barris, his company Barris Kustom Industries created vehicles like the original 60's Batmobile, the Munster's DRAG-U-LA and were the inspiration for many Hot Wheels . It's very hard to mistake his creations for anyone else. Anyway enough history about the man, this is about the auction!

Evidently this Barris creation came to life in 1971 from a 1/25th scale model, and features a triple blown (giggidy) "500hp" Chrysler Hemi engine, hand made headers, Cragar wheels, and 15" rear Goodyear slicks. The front has a working fork lift mounted ahead of the front axle. The original chrome has since faded, and the large helmet shaped roof has since been painted white, overall she's showing her age.
Bidding is around $10,000 with 3 days left on the clock, the reserve has not been met. I really do not know what to say or think about this thing, except is damn sure is unique. I just had to share.

For the eBay link click Here.
For the complete history on this car click Here.
Some added pictures for your viewing pleasure, tons more available at the auction link:
(Photo Sources: Original eBay auction listing)