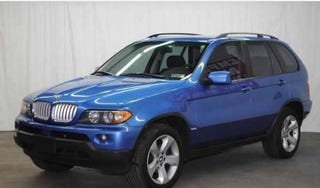 I know SUV's get a lot of hate, and BMW drivers get a lot of hate, but this is my dream car.
This is a 2005 E53 X5 3.0 with a Manual transmission. Inline 6 + 6MT = goodness. For those that aren't familiar with E53's, the first generation X5, they were available with Manual transmissions. It's pretty uncommon. Now let's talk paint. That is Estoril blue you are looking at. Common on the 4.6is and 4.8is, but this is just a lowly 3.0, so this is a real unicorn. This is actually the only Estoril blue 3.0 I've ever seen, and it has a 6MT.
The E53 is different from most SUV's. It actually handles. It's no E36 M3 but you can take these up to your favorite back road and feel comfortable. They also aren't massive, it's basically a tall 5 series. Throw on some minor mods and it'll drive like it's on rails.
It sold months ago, but I stumbled upon it on multiple forums recently. I'm sad, I don't think I'll find another like it. This would be the perfect vehicle for me, I love Estoril blue, the 3.0 is DIY friendly, 6MT, and the space is perfect for me.
Now it's time for me to go double park my E90 in a handicapped spot, go get some ice cream, and try to mend my broken heart.