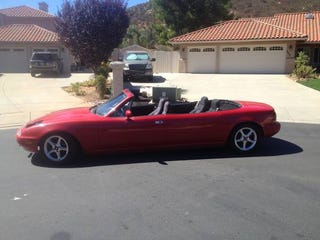 What is better than a questionable repaired Miata? 2 Questionably repaired Miata's combined for extra driving bliss.
Supposedly built by the current owners uncle who died of cancer, this miata started life as two separate ones, both involved in collisions. It isn't currently registered but was in the past, and will pass smog. It has a custom two peace driveshaft and can go over 80 mph.
It doesn't have a specific price because it has too much sentimental value, and I don't blame him for not wanting to sell. Kind of...
Anyway what do you guys think? Here is the original posting.