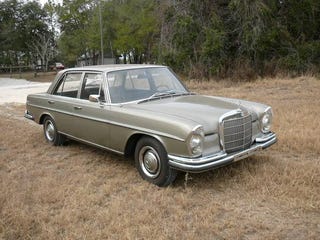 Although I already have my Civic, I want a second car. Something fun. Something exciting. Something different. Today's NPOCP would fill this void nicely. But is $4800 too much?
The 1960s were full of incredible cars. Most people think of the classic muscle cars like the Mustang, Camaro, and Charger were all the rage. Although cool, these never amazed me. This 1966 Mercedes 250S however does amaze me. The styling. The elegance. The status. It just equates to this incredible car. I always looked at these and thought that they must be worth a ton; a car that would only be found in my dream garage. Then this popped up.
This particular example claims to have only 85,000 miles on the odometer and has been garaged for most of its life. It also features a manual transmission, which is cool because how many modern day Mercedes sedans have manuals? It claims to be all stock, except for the radio. The interior is very clean; the leather showing very little age. My favorite feature would be the steering wheel, since it just looks so different. The back seats appear to be very comfortable and offer a lot of legroom.
The body looks very clean. It appears rust free and all the bits are still there. It is ready to be driven daily. Although it won't be very fast, the style this thing gives off is immense. I'd love to roll up to Cars and Coffee or the classic car shows in this. It just fits in.
My question for you is about the price. Is $4800 reasonable? It seems low. Like too low to be true. Is this car worth the money? If I had the space, I'd be looking at it right now. So, NPOCP?
Link here and Flickr gallery here
<script type="text/javascript" charset="utf-8" src="http://static.polldaddy.com/p/7740254.js"></script>
<noscript><a href="
">NPOCP: 1966 Mercedes Benz 250S</a></noscript>