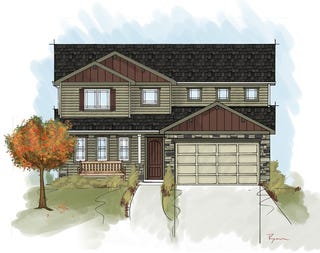 This one to be exact.
Sure, it has four bedrooms that we're turning into a 3 bedroom with a massive master. Yeah, it has nice items like 42" cabinets, granite counter-tops and hardwood throughout the main level.
The best thing about this house can be described in four simple words.
Tandem. Three. Car. Garage!
This will give my wife and I room for Her tC, my GTI as well as my '69 Firebird. Additionally, with the four post lift I'm planning to install, we'll have an extra spot when we pull together funds for her fun car (she wants an Austin Healey 3000).
To say I'm excited is an understatement! Unfortunately though there's a lot to do yet. The builder can't break ground until late March which puts our closing date around the end of July or early August. In that time I've got to get my Condo sold, which is going to also mean moving in with my parents for a bit.
Moving twice is going to suck, but that garage! Oh lawd that garage!