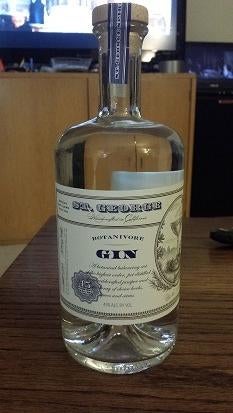 So my birthday was on the 22nd so i decided to get myself another bottle of small batch Gin and continue this exploration of the many complexities that is the Gin world. This time around I went with the St. George Botanivore. I had tried a single glass while I was out at a birthday dinner but I had an a suspicion that the restaurant added a bit of water (or the scoop of ice had some melt in it) so i decided to get a bottle and have a go on my own.

As with the other gins I have been sampling, I served this on the rocks with a light squeeze of lime. (What I have started to refer to as gin's best friend). This gin is particularly smooth. For those of you that read my review of the Botanist, I would put it on par with that, maybe even a little easier on the pallet. Upon the first sip you get a soft lavender scent that flows up your sinuses, which is quickly replaced by a juniper snap that quickly recedes to a smooth citrus as it goes down. This gin does not carry a particularly sharp bite, nor is it as aggressive as other botanical gins like Uncle Vals, but I have no doubt that is exactly what they were going for when they made this.

The scent of this gin is what really makes my nethers tingle. I could put this shit on a piece of cardboard and hang it from my rear view mirror to keep my car smelling botanical fresh. (the cops might not like that as much) The scent is in no way overpowering, but reminds me most of the day I spent strolling through a tulip field outside of Amsterdam.
All together, I love this gin. I will be revisiting it in the near future, and I will definitely be hunting down the two other styles that St. George makes. They sell a nifty 3 pack that includes a .250 bottle of each of the three flavors, so if you want a sample of each without dropping the cash for a whole bottle of each definitely track that down.
And on another Surprising birthday gin Note I had the chance to try this out
I don't have much of a review here on this one. Its made by a guy who is experimenting with making Gin. Its not being sold by anyone, I have a friend who got it directly from the distiller and allowed me 1 shot out of this really small bottle. This is an incredibly unique Gin. I wouldn't classify it as any type of gin I have ever had but i will say it was amazing. HUGE citrus notes and a subtle juniper background. Very very sharp bite, but i believe its something like 57% alcohol. This is something I am trying to get more of for a proper review. When I do you will all be the first to hear about it.
I hope all of you have a safe and happy weekend and enjoy every drink you have. If you see the St. George sitting on the bar in front of you do not hesitate to take one on the rocks with a squeeze of lime. You will not regret the decision. Cheers