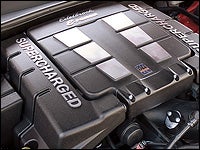 The only catch? You need to own a very specific Dodge/Ford/Chevy truck or SUV and are willing to hand it over to Edelbrock for a month or so while they try to figure out how to supercharge it. When Edelbrock is done with your truck or SUV they give it back with a professionally installed supercharger and an extra 100-200 horsepower, I'll take two.
http://www.edelbrock.com/automotive_new…
Considering the fact that having a new supercharger installed on any vehicle will cost you $5000-$10,000, this seems like quite a deal.