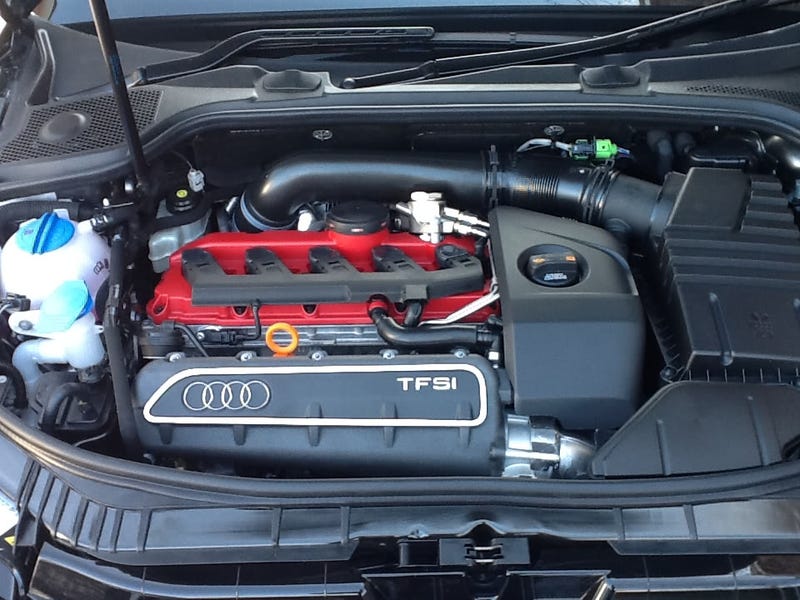 What's your car, and what would you do if you had the budget?
I'd basically raid the Audi and European parts catalog.
I'd love to drop the 2.5 TFSI from the TT-RS into my Golf R. The golf R has the same chassis as the RS3, so this is a very simple swap. The only complication would be relocating the battery to the trunk, but this isn't too bad, since that is where the MKV R32 had its battery to make room for the VR6...retrofit kits are available.
While we're at it, why not go full APR stage 3.
For suspension and wheels, I'd have to go with tried and true KW V3 coilovers. Rubber should be big and fat: 255/35/18 Michelin Pilot Sport all around, wrapped around black 18x9.5 HRE P40 wheels. This will not fit under the stock fenders, so I'd also bolt on SRS-Tec 25mm front fenders and roll the rears. The drivetrain will have a HPA Competition haldex controller and a heavy duty clutch.
Brakes: 14" brembos up front, 13" rear.
Exterior: Euro HID projectors with black housings, and LED rear tails.
Interior: OEM Recaro Sportsters from the Euro VW/Audi catalog, black leather with black alcantara center inserts and silver contrasting stitching to match the rest of the interior. OEM RNS-510 navigation from the Euro cars as well.
Or for the cost of all this you could just buy a 997 GT3. But hey, dream builds are fun!