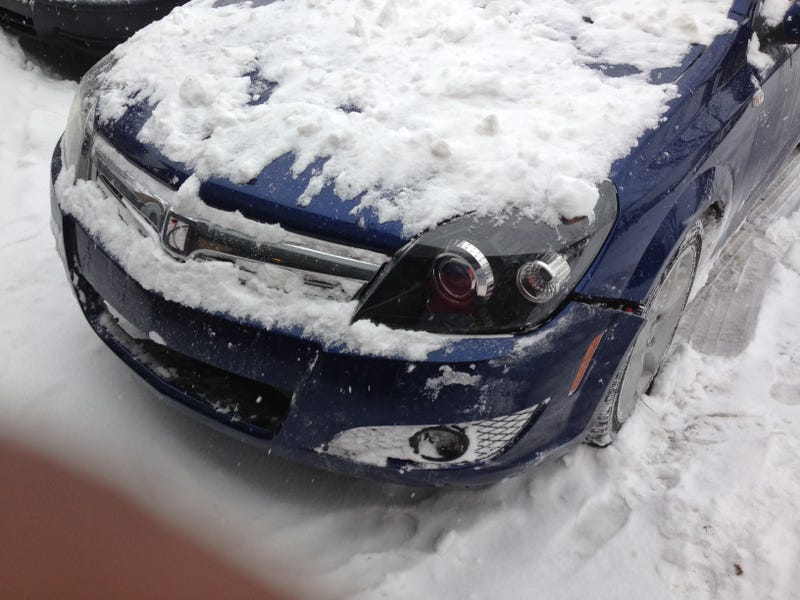 Snow is Fun! Snow is fun to play in and make snow men and make forts and blah blah blah!
Driving in my neighborhood this morning, my Astra somehow lost all steering input(READ AS UNDERSTEER) for at least two seconds and crashed head-on into a "shoveled mountain" of snow and ice at about 15mph. First time I've ever crashed into anything or had an accident like this. Luckily I'm fine but sure as hell pissed at myself. The most damage is on the left side; the bumper split from the body and one of the fog lights and lower grille broke out. There's also a hairline fracture on the lower middle section of the bumper that can't be seen from this view.
The damage to me looks either light or moderate but the bumper held up well I think? I'm no crash expert but it looks like it can be easily repaired but it's definitely an eyesore. I've gotta take it to the dealer this week to hear the "damage".
What do you guys think? Expensive or cheap?
The front normally looks like this:
UPDATE:
I had some time to fully examine the front end after work and got the fog light back in it's place and the hairline fracture is much smaller from the looks of it. the whole repair might simply be snap and go but I won't know for sure until tomorrow!
UPDATE: Cars fixed enough to sell or trade in for the ST!