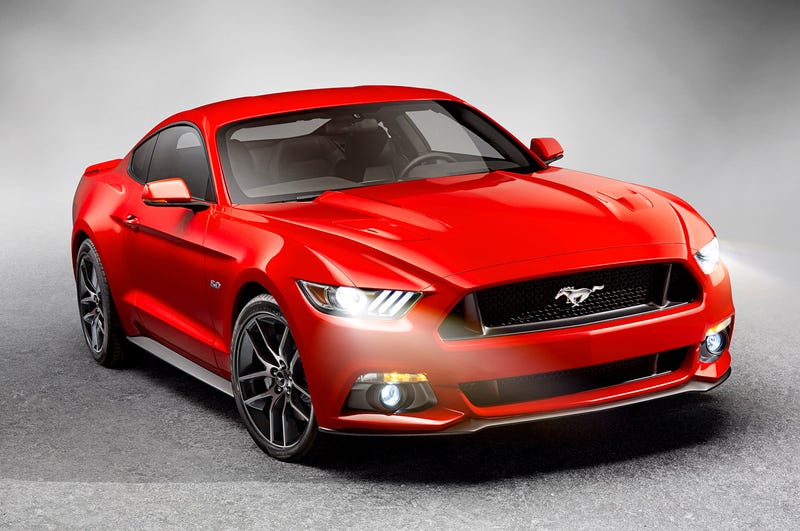 Unless you have been living under an early 2000's Chevy truck (sing it with me "Like a Rock…"), you have no doubt heard about the new 2015 Ford Mustang. The new, sculpted body is pure candy to the eye, and the fit and finish is bound to wow European petrol-heads, who already know the quality Ford is currently putting into their interiors. So why on earth would someone make the audacious comment that the smallest motor to grace a modern Mustang also be the best? For three reasons: size, tuning, and desirability.
Size. In Europe, and honestly, other countries that are not the U.S. of A., the notion of taxing heavily is not completely dead. The thought is, if you can afford a car with more than a certain amount of displacement, and with its equal amount of "not a care" given to Johnny polar bear and his stupid ice caps, then you can afford more taxes, Ye Jerk. The healthy 420 hp 5-liter is spitting boldly at the displacement tax, and in Johnny polar bear's eye, according to the EU emissions testing cycle. Even the not-too-shabby 300-ish hp 3.7 liter V6 is still just too big for Europe, to the point where Ford has not even considered it as an option. That leaves one glorious engine for the mass population of Europe to enjoy.
Ford's 2.3-Liter makes about 300 hp in turbocharged and direct injected form, and can make itself presentable for the boarding school test that is the EU emissions. Having passed the test, it can then nestle itself in a very stiff, V8-hardened chassis with, what is bound to be, a brilliant independent rear suspension. Think about that. What other RWD sports car is everyone raving about? That's right, the Toyobaru twins. What is everyone's biggest complaint about those cars? Power. This engine and chassis combination is a big "you're welcome" from the Big Blue Oval.
Tuning. Have you ever heard of a couple of companies called Mountune? Cobb? SCT? You see, these companies go into the computer and talk nicely to it. They say sweet, sweet things to these computers to make them scream. So imagine a 350 hp Ford Mustang with independent rear suspension. Did you think of the SN95-based Terminator? Yep. You did.
Enthusiasts heralded these Terminator Mustangs as the new benchmark when they arrived on the scene. The fancy IRS and supercharged modular motor really brought alive the looks of the New Age SN95. Some people were let down by what some say were the frailties of the rear suspension, and the ever-present chassis flex that plagued road course warriors. Others were let down by the debilitating fuel appetite of such a healthy supercharged motor and the inability to run anything but the finest of go-juices to keep it from knocking. While, yes, it was a great Mustang, these little annoyances are what Ford heard, and so a marvelous idea for the longest running pony-car was shelved.
Now it's back, but in a form you wouldn't have expected. Imagine, for a second, a Terminator that didn't drink gas, can be run on ethanol, rev past 7000 rpm, and have DAT TURBO WHISTLE… mmmm, tasty. Canyon carving will be easy thanks to an undoubtedly stiffer chassis. Drifting will be fun and challenging thanks to the ever welcome rear set up. Road course newbie's will be able to go to pro-am skill levels with a truly forgiving platform, and auto-crossers will rejoice, as this sniper rifle can be wielded with the proverbial ease of a shotgun. That leads us to our next point.
Desirability. The buff books, as we call them, will always have their ability to wax poetically about the way a car does so many things right, or bombast a car that fails to meet their expectations. I do not doubt that some will be put off by this little turbo four, being placated to the mantra that there is no replacement for displacement, but given how most are taken to the charms of the Focus ST and Fiesta ST, never faulting their power plant choices and the livability of the previous generation V6 Mustang, the praise will be heaped on. Some will herald it as a monstrosity at first, but it wouldn't take a vivid imagination to see that soon, with its charismatic hips and confident grin, the new Mustang will rev its way into the hearts of many around the globe, and will become, to many, more than the sum of its turbocharged parts.
Looking at all of these factors, one can't help but realize that such an vehicle will add fuel to a fire that currently rages between automakers to get as many young adult behinds into their performance products. Will this cause Toyota and others to see the Mustang as a competitor? Without a doubt. Will this prompt a "me too" reaction from Chevy's own pony car? Probably not, but it may spur on new products from them. The floodgates are now open for powerful, cheap RWD cars with the Ford Mustang Ecoboost at the forefront.
My name is Jamil Mizirawi and I occasionally like to write, always love to drive, and most times love to wrench. Expect more cool and helpful stuff