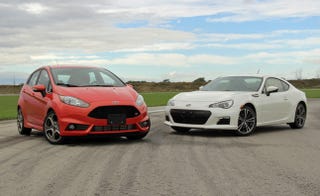 Friend sent me this link since I ordered a Fiesta ST. He also tagged a friend who has an FR-S. A hilarious set of quotes is going on right now. Current favorite is as follows.

Joe - Okay, Fiesta ST on Hoosiers and FR-S on Hoosiers, who wins at an AutoX?
Me - Hoosier.
Seriously, we would probably tear through 5 sets of tires each (cause TRACK DAY, BRO!) trying to one up each other.