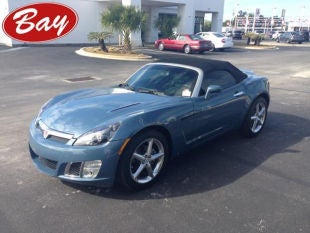 I'm 35, changing a lot of things in my life (back in school, quit the job I hated, etc.) and now I find myself drawn to sports cars I can't really afford right now, and can barely fit inside.
Driving the wife's Passat makes me long for the rush of a direct-injected turbo four...
I'm 6'3" and somewhere around 300 lbs. I know I can fit inside a Solstice although I've never driven one. The Cadillac dealer a few towns over has a bright red Sky RedLine 5-speed that we could afford...if we traded the Kia. But this one in Florida caught my eye. Of course, convincing my wife to make a road trip to south Florida to buy a car may be difficult, especial since we have been barely scraping by for the past few months.
Since I'm on my phone, here's a link:
http://m.cars.com/for-sale/#vdp?…
And a picture:
Look at that blue...