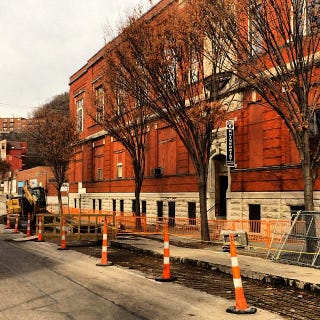 Welcome to Better Know a Brewery, a post in which one talks about a local brewery. I would make this a series that others are encouraged to contribute to, because if there is one non-car thing that Oppo loves, it's beer.
Over the weekend I got to go and check out Rhinegiest located in Over the Rhine, Cincinnati, Ohio.
(Full disclosure: I was somehow invited to a Chinese New Year party there on Saturday night. I only got to try two beers before I ran out of money and we left to go to a bar)
The building itself is the old Moerlein bottling plant. It is a really neat old facility that was built in 1895 when there were 38 different breweries located in OTR.
This is their picture of the inside when fully lit, it looked more like this when I was there:
The two beers I had were Ink (a Russian Imperial Stout abv: 10%) and an IPA that was either Saber Tooth Tiger or Truth (I don't know, it was handed to me by a friend of a friend and I couldn't hear what she said it was, you don't turn down free beer).
Ink was very dark and delicious, I give it 4.75 Little Brewers out of 5.
The mystery IPA was also really good, and I don't even like IPA's! It gets 4.33 Little Brewers.
I will make it back there some day when there isn't a party to drink more beers.
All pictures and non anecdotal information from their website.