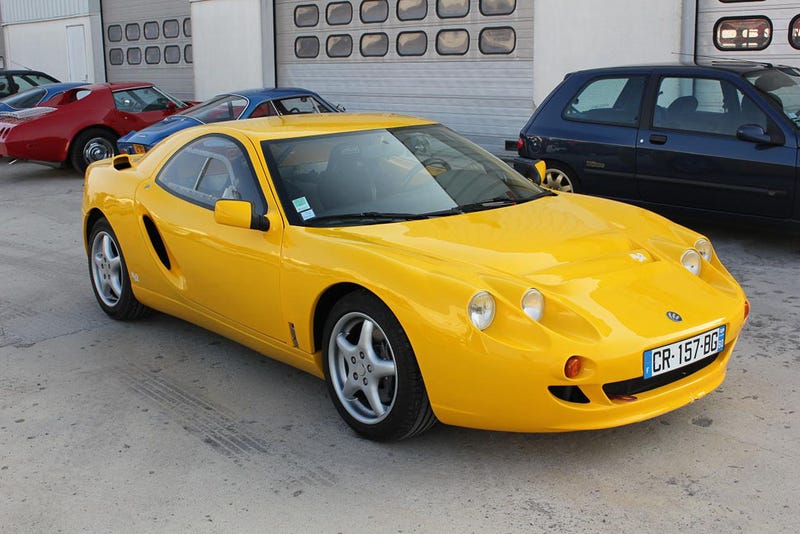 Some of you might know now that I am an imported french, I've spent most of my life in France but I have moved to North America back in 2004. French cars have always been in my heart and I love driving the few nice ones produced by my beloved co-citizens. The Peugeot 205 GTI, the R5 Turbo, Peugeot 104 ZS2 and so on. But the one that marked my life forever is the Alpine A110 as my father owns one (1600SC) in prestine condition. I might write about this one some day. Anyway, the A110 is also called the "Berlinette". So back in 2004, bored and probably procrastinating in front of my computer, I checked for "Berlinette" on internet and there it was, popping the middle of A110s on Google Images, The Hommell Berlinette Echapement.
2L, 4 cylinders DOHC 16 valve engine producing 155hp and 137 lb.ft of torque all that for less than 2200lbs. The perfect sunday car for anyone looking for fun at the Lohéac racetrack where it was built, funded by a french millionnaire and car-related media mogul, Michel Hommell. Of course, discovering the brand in 2004 only made me look stupid as the brand stopped producing cars in 2003 after producing only a handful of cars (188 cars and 3 models of Berlinette, the basic one, the RS and RS2). A Barquette with no roof was also produced, based on the Berlinette.
You might think that therefore this awesome little thing is impossible to find then and must cost a fortune due to its small production. No, it's not even the case. A basic Berlinette Echappement can be found for 20.000€ while the last model, the RS2 and its 195hp can be found for 35.000€. Of course, you are going to have to go to France to find one...
http://www.leboncoin.fr/voitures/offre…
I have yet to drive one unfortunatly but have decided to try and get my ass in one next time I go back to France... The Lohéac racetrack is merely 120km away from my place, so I have no reason not to go and venture there with a heart full of hope! Someday I will bring one back here... someday...
Do you have any other awesome cars/manufacturers that, for some unknown reasons, have been completly forgotten??