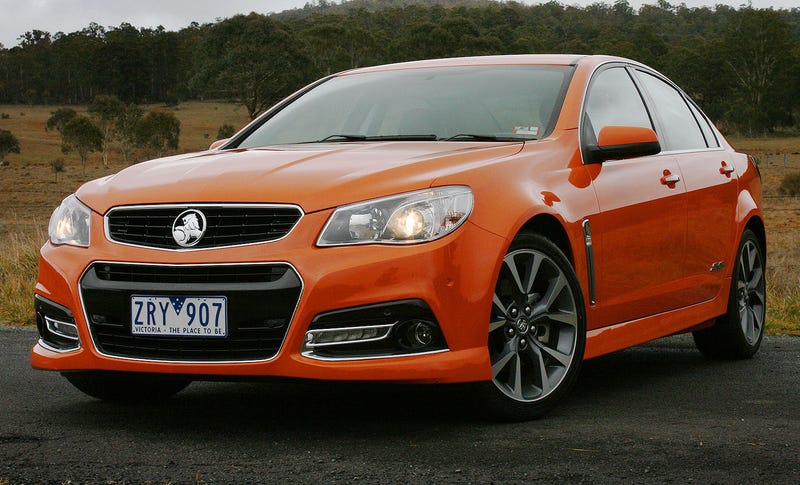 In December of 2013, news dropped that when 2017 rolls around, GM Australia will finally board up the doors at both its Elizabeth Assembly Plant in South Australia and its engine production facility in Fishermans Bend. This follows up on the coattails of Ford's announcement earlier last year that they would be ending production in Australia a year earlier than Holden, in 2016. If that news isn't bad enough, rumors are now circulating that the next-generation Holden Commodore will be another vanilla front-drive, four-banger sedan built in China. To summarize the situation bluntly, the indigenous Australian car is facing certain extinction and the Australian automotive industry is at Death's door mat.

You could paint a picture using every shade of gray imaginable and it would still come out two suns brighter than what's going on Down Under right now. Australia's Carmageddon not only signals the loss of some genuinely excellent cars for enthusiasts, but more importantly the loss of thousands of jobs that will likely never be regained. Obviously, the irrefutable news of an escalating unemployment rate isn't what you want to hear when you are trying to shake off a global recession. Here's to hoping that the many Australians who will be out of work soon can quickly rebound from the loss of their automotive industry.

However, for those of us who have an honest admiration for what makes Holden's Commodore a Commodore — regardless if you live in its home territory or abroad — there's enough reasonable evidence out there to believe that the name of the big Aussie sedan won't wash up on another cookie-cutter Toyota Camry clone with a cliched "four-door coo-pay" roofline comb-over. If you needed some glimmer of hope to get you through all of this, then pull up a chair and tune in. Bear in mind GM still has a lot of housekeeping to do before it makes an official announcement, but here's what could likely be in store for the Commodore's future.
Four-Cylinder Commodores of Holden's Past
Since it's inception in the late 1970s, the Commodore has been a rear-drive car with optional V8 power. That's the basic iconic formula customers have come to expect and any slight change made to it has proven to be futile. Holden tried to introduce buyers to a Commodore armed with a four-cylinder engine back in the 1980s, only managing to sell a handful by the time the option was dropped from the range entirely for the VL model introduced for 1986.

Historians may be quick to point out that the four-cylinder Commodore failed mainly because it wasn't any more economical than the six-cylinder versions, and that if a modern four-cylinder were thrown under the hood of the current VF it might actually be successful. There's no argument to be made on the first half of that statement, but the second half ... well, there's reason for doubt. Ford recently tried to revive the small-engined big car concept in 2012 by dropping in a proper EcoBoost four under the hood of the Falcon. The smaller engine did little to boost sales, so that would say otherwise.
There's still reason to rest assured that yesterday's classic Commodore recipe will influence tomorrow's model.

Made in China?
Now, let's get one thing out of the way: GM and Ford are unlikely to reverse their decisions on their Australian operations. Ford and GM both have generally struggled to turn a significant profit there for the latter part of the decade. Ford alone lost $141 million after taxes during 2012 to 2013. Holden lost $139 million during 2012 and sources at GM Australia have said the company doesn't turn a profit on any vehicle it builds. The Australian dollar can take some of the heat for that, it's value making domestic manufacturing unreasonable for the relatively small size of the market. Export programs carried out by GM have proven to be especially unprofitable because of the country's currency.

So the Holden Commodore will likely never be wholly developed in Australia, for Australia, and built by Australians again. As sad as it may be, it isn't hard to understand why when you realize that, coupled with an unfavorable exchange rate, it isn't financially feasible to pay the high costs to design, engineer, and build a car that only sold roughly 30,000 units last year (and has been steadily dropping from each previous year).

The current VF Commodore, which is a substantial refresh of the previous VE model, racked up A$500 million in development costs alone, which comes out to around $440 million USD at current exchange rates. If sales should dip by another 10,000 to 12,000 units for 2014, which would be the VF's first full year on sale, it would be hard to see the program quickly paying itself off, especially after Holden pays its bills and employees, let alone minting any money. The rabbit hole goes further, but we won't devote the time here to dive through all of the mess and the politics surrounding this meltdown.

It should be said, however, that the Commodore, in spite of its small sales figures and poor profitability, still managed to take home the number four position on 2012's sales charts and is still the best selling large car Down Under. The Ford Falcon, in contrast, wasn't even in the top ten and it isn't exempt from the same issues haunting the Commodore, either. If anything, what ails the Holden has been completely killing the Ford, and that's not to mention the Falcon was never given the opportunity to be exported like the Commodore. After Ford halts its Australian operations and retires the Falcon name, chances are nil it will ever fly again.

There's still some wind left in the Commodore's sails, and its because the car still shows promise that it will pack its bags and leave for a new home. That's pretty much a fact. But where will it wind up? Europe or China? Future Holdens will be built in both locations, sure, but neither location will likely be correct for the Commodore. Instead, the Commodore will probably be built in North America.

The Future Commodore
The Holden Commodore will not be directly replaced by a front-wheel drive, four-cylinder sedan made in China. There's evidence out there to support that. Instead, current aspirational Commodores – the SV6, SS, and Calais – will be replaced by a version of the next-generation Chevrolet SS sports sedan built in North America. Entry level Commodore Evoke models, on the other hand, will probably be indirectly replaced by the next-generation Holden Malibu.
It makes perfect sense. The current Holden (née Chevrolet) Malibu is already close in size to the Commodore, mainly lacking in rear seat legroom. Since that is one of the biggest complaints aimed at the Malibu, it's reasonable to assume GM will make the car slightly larger to make the back seat more habitable the next go round. That will also put the upcoming replacement for the Malibu uncomfortably close to the size of the big Holden.
No one would blame you for believing that GM will take a more swoopy, trendy direction for the new 'Bu's styling either, considering that's how every other four-door family sedan is turning out these days. And that would certainly explain the design concepts "teased" in a controversial advertisement aired shortly after Holden made its announcement.
As of this writing, the Malibu is also currently built in China, and who knows? Maybe GM is considering importing Malibus from China into Australia in the future. Considering the strength of the South Korean Won, I wouldn't be surprised if the automaker shifts its Malibu imports from South Korea to China.
So there's your new front-drive, four-cylinder "Commodore" from China. But what about the real one?
That's simple enough. As of right now, Chevrolet has three large cars — the Impala, Caprice police model, and the SS sports sedan — that all could be easily replaced by a single model. GM also has a new platform in the works to compliment the recently introduced small to mid-sized Alpha platform found under the Cadillac ATS and the upcoming sixth-generation Camaro. Dubbed "Omega," it's currently being tested under Cadillac's future flagship sedan. Hanging in there with me so far?
Since it seems Cadillac isn't against sending their platforms downstream to Chevrolet to reduce costs — and you can believe GM will do that given the small share of the market the new big Caddy is going claim — it wouldn't be at all unreasonable to assume the next-generation Impala will ride on a version of it as well. With a new rear-drive Impala to replace the Epsilon II-based car on sale now, GM could not only give the Dodge Charger a serious run for its money in the police car arena, but serve up a convenient replacement for the SS sedan as well. To keep the gravy train rolling, just slap on some Holden Commodore badges where necessary, send the result to Australia, and call it a day.
There's plenty of reason to keep holding out for the Commodore to have a safe journey into the future. Only one question remains, though. How would Australians accept a new American-built Commodore?
Like this article? Keep up with the stupidity by following me on Kinja or on Twitter @ignitionist. Peace out, girl scouts.