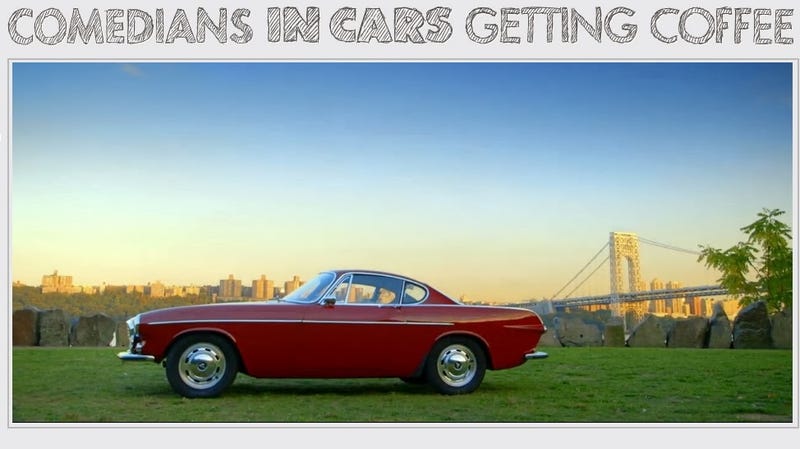 The most recent episode of Comedians in Cars Getting Coffee featured an absolutely minty clean 1967 Volvo 1800S and got me thinking how much I'd love to own one. The P1800/1800S/1800E market isn't bad right now and examples are available for the Seinfelds and Newmans among us.
As covered in the feature by Travis, the show is a Seinfeldesque stream of consciousness afternoon with Jerry and a guest getting a cup of coffee, drinking things like wheat puff cereal milkshakes and generally being funny. However, the real stars are the cars. Season one's list of cars reads like a postal employee's dream list (Beetle, Karmann-Ghia, MBZ 300 SEL 6.3, Triumph TR6, '70 Challenger) the second season amped up the rides to 1 percenter levels (Lamborghini Miura, '73 Carrera RS and E-Type Jag). Affordable cars still show up and the Jan 30th episode stars Tina Fey a 1967 Volvo 1800S.
The Volvo 1800S looks and sounds fantastic in the CiCGC video and does nothing but fuel the fire of my Thorsday obsession. The car used in the episode is just about perfect in condition and represents a top of the market 1800S, strange 90 mile museum quality versions notwithstanding. Join us as we take a quick look at the P1800/1800S/1800E market, starting with serious coin and ending with what you can get for a grand.

First up is this 1965 Volvo 1800S offered for $16,500 in Glendale, CA via craigslist. The pics and description are light, but if the car is indeed as nice and original as the seller says, it is probably worth something in the $15k range. The black (dark grey?) exterior with red interior is especially nice looking.
For a few $k less is this 1971 Volvo 1800E currently bidding for $11,300 reserve-not-met and painted in a respray of the original California White paint. If it is indeed free from rust as the seller states, this could be a great driver if the reserve is reasonable.
Next, we've got the project 1800S for the guy who wants to spend his weekends sanding, welding, and wrenching. Find this 1965 Volvo 1800S project for sale in Machesney Park, IL offered for $1,000 via craigslist. The seller did not provide a picture, but the google streetview car was nice enough to snap a few photos of the primer colored classic.
Lastly, we've got an early Jensen-built P1800 ironically listed on ebay as an 1800 and offered for a starting bid of $200. Find this 1962 Volvo P1800 located in Brooklyn, NY via ebay. Condition is pretty abysmal, but a similar early 911 shell would sell for $10k and don't even get me started on the "value" 23 window bus shell.

See a good deal on a P1800/1800S/1800E that we missed? We'd love to see a good $7k driver that could be driven and lightly restored to $10k level. tips@dailyturismo.com
Originally posted as Seinfeld Drives Tina Fey Around In A Volvo 1800S And Now I Want One on Daily Turismo.