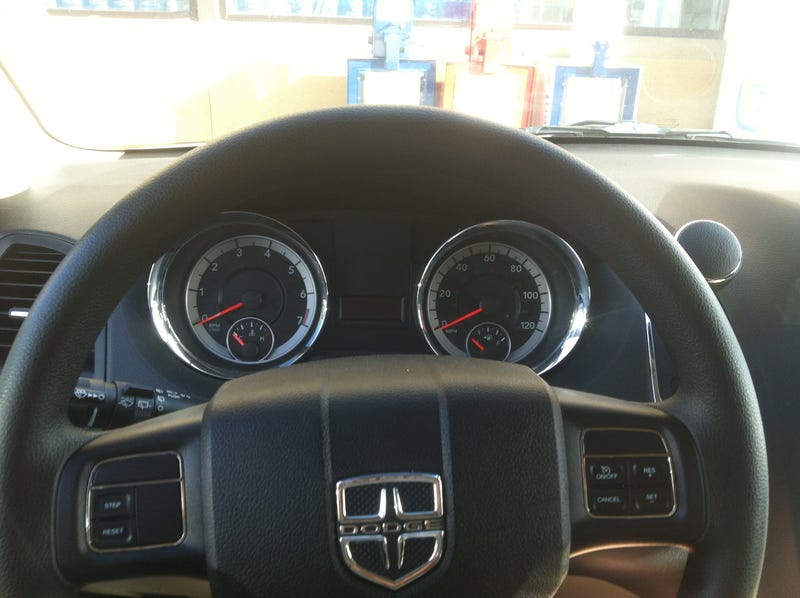 Wow. So Doge. Many caravan. No, I didn't take a picture of the exterior—you'll just have to deal with that. It was white.
A family-related complication forced my parents, my brother and I to make an 800 mile trek to North Carolina this past week. We've been driving out there once or twice a year for as long as I can remember, so it's gotten a little old by now. Even though there's only four of us, we wanted to drive something with more room this time, so we rented a Caravan from Budget. You know it's Budget because they didn't bother to vacuum up the previous client's dog hair. Here is a short review.
Exterior
It's not bad, for a mini van. It certainly looks better than the Toyota Sienna, which resembles an inbred beluga whale. But if you purchase a minivan based on it's looks, you should probably give up on pretending you're young already. JUST SAYIN'
Interior
Now, I'm regretting the fact that I only took one picture. Just help me out here and Google it, ok? It seems roomy enough, but I don't drive very many vans, so I have no point of reference. All I know is that I'm 6'3" and I fit in the third row just fine. Headroom was a bit limited, but then again, how many 6'3" adults are you gonna be hauling around back there on a daily basis? Leg room was ample. Downsides? Well, for one, the seats sucked. It should be a federal crime to make young children sit in those things—it could be detrimental to their young spinal columns. My rear was numb after about five minutes. Also, there were no secret cubby holes or anything, so I was a bit disappointed.
Drivetrain
Obamanotbad.jpg.
The 3.6L Pentastar V6 was STRONG LIKE OX. According to Wikipedia, it makes 280 hp and 260 lb-ft of torque. It's definitely the Caravan's strongest point, and the six-speed autobox wasn't bad, either. One gripe: chuggin' along, with cruise control on, at 75mph in 6th gear, it really didn't like hills. Speed would steadily drop, sometimes down five or so mph, before the tranny bothered to downshift. This tends to annoy the crap out of you when you're driving through the Appalachians. Eventually, I just said screw it and drove with my right foot like some sort of Barbarian from the 20th century. Otherwise, all good!
Handling
BODY ROLL BODY ROLL BODY ROLL WEIGHT TRANSFER BODY ROLL UNDERSTEEEER
It's a minivan; what do you freaking want? But, seriously, it's not bad. The steering had a surprisingly good weight to it, although the rack was about as accurate as I am with a bow and arrow (I am not accurate with a bow and arrow). It rode adequately—the shocks handled potholes well, but a series of small bumps would really unsettle the van. It's like Spider Man 3, where Peter destroys Venom with sonic resonance. Or maybe it's more like the Tacoma Narrows Bridge... I don't know. Either way, the suspension can't level out quick enough, and 1:58 of this video happens!
Toys
It had a GPS, which worked. However, there seems to be no way to shut up the annoying voice lady. YES, I CAN SEE THE LEFT TURN IN 60 YARDS. There's also a flip down DVD player, but you there are't any headphone jacks, and you can't listen to music up front if a movie is playing. Meh.
Overall Impression
One of my Jr. high school friend's mom drove a Honda Oddessy. It had leather and electric captains chairs. During my journey, I wanted so badly to be inside that Oddessy. If you're going to buy a minivan, don't go for the strong engine and manly styling. Just give it up and go full beige.