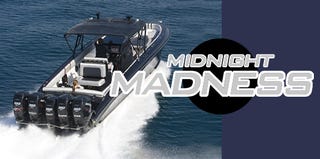 There has been an age-old Bro saying that has been stuck in my head for years: "Go hard or go home". This is applicable with many of the cars that we love here. It's also applicable to this ridiculous boat. And God I love this boat.
The Midnight Express 37 Open Sport QUINTUPLE 350 is the boat for the multi-millionaire that prefers to drive over being driven. And by "drive", I mean skimming over the water, screaming out of fear/pleasure while gripping the wheel as tightly as possible. Sure, he/she could buy a big ass, slightly used yacht that requires a captain for about the same price (it's a special edition, but the four 300 engine version is about $500k), but where's the fun in that?
In case you're mathematically inept, there is 1,750 horsepower-worth of outboards on the ass end. It's also approximately 13,200 pounds. Sounds heavy, huh? Not really. That's 1 horsepower to every 7.5 pounds of boat. This makes for a big, bad 37 feet of fiberglass.
Let's take a look at those sweet, sweet outboards a little more closely. Five Mercury Verano 350s is almost unheard of on any boat, much less a 37' center console. At speed, they are as thirsty as they are powerful. Each engine has a 6400 redline, which gulps fuel at a rate of 33 GPH when run flat out. At 6000 RPM, it chugs at a slightly lower 30 GPH. The fuel tank on this monster is 475 gallons, which means, at 6000 RPM, you're going to burn through about $2,000 worth of fuel in a hair over three hours. Did I mention that this boat is for multi-millionaires?
How far can you get in those three expensive hours? An official top speed wasn't released, but I have seen quotes from Midnight Express' representatives in the past saying that the highest rate of travel was IN EXCESS of 90 MPH. I have a bass boat that is capable of doing 60 on a fresh water lake, in calm winds and minimum waves. NINETY MILES PER HOUR on the open ocean with small 3' waves is enough to require Depends be worn by all passengers. If, just shy of redline, you could skim along at 90, the range is about 270 miles. Yes, that adult diaper would be full by the end of the ride (mine, at least).
As I stated before, this is a special order rig. They usually sell twin or trip engine boats that are between 34' and 43'. Open bows and cuddy cabins guaranteed to land not only big fish, but plenty of attention to boot. FLIR, full radar systems, great big JL marine sound systems, underwater transom LED lights, and point pad spotlights are all options. And these are not cheap options. But hey, if you can afford the gas...
Let's face some facts here. All but a small handful of us would ever be able to afford this floating bankruptcy maker. To be honest, two other age-old quotes trump my aforementioned Bro saying: "Boats are holes in the water to which money is thrown into", and "It's better to have a close buddy that owns an expensive boat than to own an expensive boat". But my love of this one-of-a-kind go-fast makes me want to chunk rational thought right out the window.
I need to work smarter AND harder so I can own it.