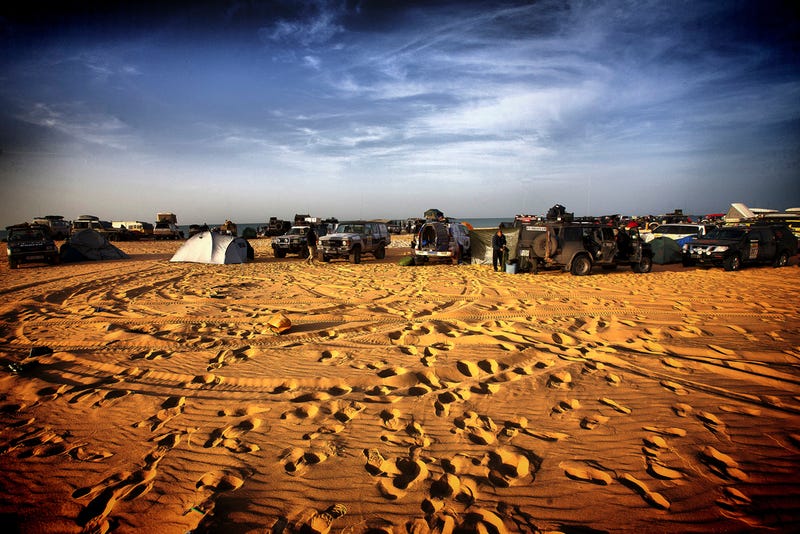 A couple weeks ago, I ran into an old friend of mine who had recently taken a semester abroad in Spain. When I asked him about the experience he said it was great, but expensive. Five-figures expensive. Of course, the automotive enthusiast in me immediately retorted with, "wow, you could buy yourself a pretty nice set of wheels with that kind of money." My friend's response was simply, "yeah but I'll probably never have the same experience ever again."
Okay, I completely understand that. I recognize the desire, dare I say need, for young people to go out into the world and "find themselves" or simply have the kind of experience you could only ever get by going abroad. A lot of friends who I've talked to describe their experience as more of a semester off with much less coursework, but justify their time spent by saying it was a once in a lifetime experience.
While a semester's tuition makes up a significant portion of the cost, other expenses such as travel, food, and whatever you lose once you've been pickpocketed can add up. So, for the money you could spend studying abroad, could you buy a car and have a once in a lifetime experience? Better yet, could you go racing abroad? Yes, you absolutely can, and it costs the same as spending a semester abroad, perhaps even less.
The Mongol Rally
Do you love power? Do you see every car as a candidate for an LS swap? Then the Mongol Rally is not for you. However, if you don't mind piloting a car the size of your shoe for ten thousand miles with the high probability that you will crash, get lost, die, or do some combination of the three, the Mongol Rally is up your ally.
If you decide to take on the ten thousand mile journey (that has no planned route, by the way) from the UK to Mongolia, you have to do so in a car with an engine displacement of 1 litre or less, or on a motorbike that is 125cc's or smaller. Exceptions are made if you're somehow driving something stupider, though. If you want to be smart about tackling the event, bring something reliable and easy to fix, as there are no support teams to help you.
While this sounds like a LeMons version of the Peking to Paris rally, it's strictly non-competitive and for charity. All teams are required to raise £1000 for charities through sponsorships, and the entry fee is £650 for a car and £350 for a motorbike. With the price of your craptastic vehicle, and visa, food, travel, and other expenses, this isn't the cheapest excursion, but if you bring a buddy or two, it's easy to subsidize your costs.
http://www.theadventurists.com/mongol-rally/#…
Budapest-Bamako
The Dakar Rally is one of the coolest, cruelest racing events around, and it may seem like a pipe dream to some of us racecar driver wannabes, but if you want a slice of the action there is always the Budapest-Bamako rally. The thing is, though, while security concerns in Mauritania have caused race coordinators to move the Dakar rally to South America, the Budapest-Bamako rally does away with security concerns and runs through the country anyway.
While the rally is particularly dangerous for this reason, the event's site states that there is a good relationship between the Mauritanian government and the race coordinators, so you'll be under the protection of the local armed forces and police. This rally is much more organized than the Mongol Rally, so there are designated routes and stopping points, and medical help will be available to those who need it. Also unlike the Mongol Rally, this is a competitive event, though you can choose to do just do a non-competitive "adventure" version of the event.
The rally's motto has always been "Anyone, by anything, by any means." This means that you can enter any vehicle you want, so long as it has valid registration. This is great for those who may have a special mechanical knowledge for a specific vehicle or brand. You can even use your own vehicle if you are bold enough. If you choose to compete, your entry fee will range from €1200 to €2500 depending on the timeliness of your entry. If you choose to participate but not compete, your entry fee will cost €270 to €700. Your entry fee will be waved if you choose not to compete, but do the event in something ridiculous or funny.
Not including your entry fee and vehicle costs, the site estimates your running costs to be around €2000, per person, though if your team consists of more than two people that amount will go down. Thus, this is the most expensive option, however it is an armature rally, not just a loosely organized excursion.
Roof Of The World Rally
Perhaps the cheapest, and most interesting option is the Roof Of The World Rally. For a mere £99 entry fee (though it increases £100 each following month after the initial registration date, though not exceeding £499), you can drive from the UK to Tajikistan. If you raise £2000 or more for "Go Help," your entry fee will be waved.
What vehicles can you take? Technically anything, though it is encouraged you take something less than 12 years old and is suitable for traversing rough terrain. The idea is that the vehicles will be sold or donated to a charity at the end of the race. More so, the coordinators of the event encourage you to take an ambulance. Always wanted to be an explorer and a Ghostbuster? Here's your chance to do both at the same time.
When browsing the page, you may also notice that tea is a big thing for these guys. The idea is that you will be traversing old trade routes to deliver tea all over Eurasia, and meet with the locals along the way. This event, much like the other two, is all about adventure, and so there is no set route. However, it is suggested you drive across the Pamir Mountain Range to the final destination.
http://roofoftheworld.charityrallies.org
The point of this article is not to ruffle the feathers of those who go abroad to study or experience new cultures, it is to show that you can do the same thing…but with cars. What is particularly fantastic about these three expeditions is that they all in some way are charitable to the very countries they run through. So go out, explore the world, and tell us all about it.
Lead image courtesy of: http://www.budapestbamako.org