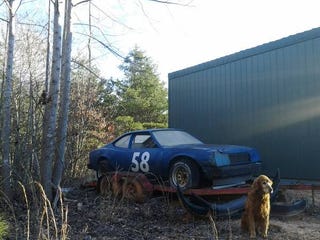 The plausibility of this is hazardously close to reality. Stop me with logic.
74 AMC HORNET CIRCLE TRACK CAR!! FULL ROLL CAGE, 360 ENGINE (BLOWN), T-10 TRANSMISSION, 8 3/4 CHRYSLER REAR END!! COMES WITH ENOUGH HARD PARTS TO BUILD AN ENGINE! INCLUDING HEADERS, RACING CAMSHAFT, AND AN ALUMINUM INTAKE!! SPARE FENDERS, SUSPENSION PARTS, AND A RAM TRIPLE DISC CLUTCH!!! THIS IS A COMPLETE CAR!! ALSO COMES WITH TRAILER!!$3400
Location: RUTHERFORDTON N.C.
Considering lemons..
1. If trailer is "valued" at a figure between enough to call the car "$500" or the roll cage counts as safety upgrade costs.
I know, there's better values on car trailers.