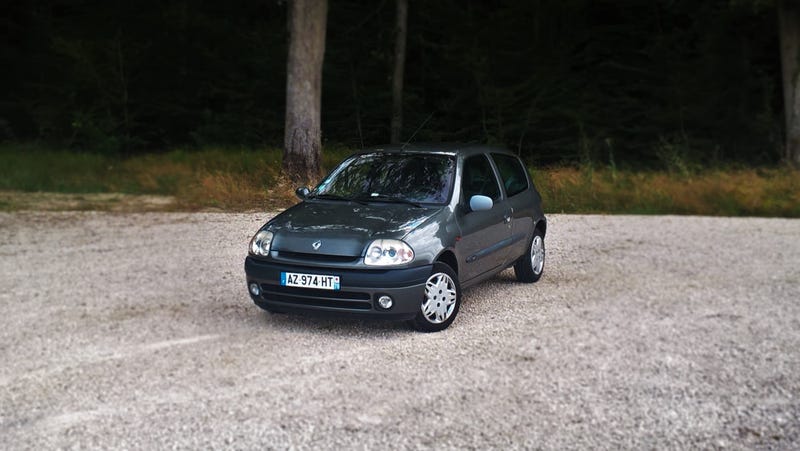 The second generation of the Renault Clio is the standard economy car here in Europe, and has been the best selling car for years here in France. But since most of you guys are in the US and will probably never get to see one, I figured I'd do a review of it here!
As I said, the Clio 2 is very common here. But my particular car is quite a rare version of it: it has a gas engine, whereas around 80% were sold with a diesel engine; it's also the three-door version, where most where sold as five-doors hatchbacks. It also has a horsepower boost in the form of an Oppo sticker, which makes it 1-of-1. Pebble Beach 2048, here I come!
At nearly 160,000km (around 100,000 miles, which is quite a lot here in Europe), it has sadly amassed its collection of dings and dents, although most of them where there when I took ownership of it 5 years and 50,000km earlier. It's also my only car, and for all intents and purposes, my first one as well.
Exterior: 4/10

Nothing crazy or outstanding here. Simple lines and curves, all of which seems to fit together quite well. It sits firmly in th "bubble era" of car design, without going Multipla with it. The very small wheels seem a bit lost under the rear arches, but nothing you won't see on a comparable car from that era. I quite like the gunmetal paint and the bubble rear-window, though.
Interior: 4/10

Yeah, that's an economy car from the late 90s/early 2000s, and the see of grey plastics certainely shows that. Doesn't look or feel great, it has to be said. However, the build construction is surprisingly good, and after 16 years of daily abuse, you can hear no squeaks or rattles, and there's only one piece of trim that I have to put back into place every so often. I know of many higher end cars who can't say the same.
Everything is laid out in a way that makes sense, and the instrument cluster is easily readable, so there's that.

Engine: 4/10

My car has the 1.4L 16V gas engine. It produces 98hp for 94 Ib/ft of torque. In other words, not much. However, the car is very light by modern standards, at 1,060kg (2,337 pounds), so it can still move around. The real problem is the lack of torque, which makes it pretty hard to just stomp it and go. Peak torque is at around 4,000 rpm, so you have to rev it out quite a bit to get going.
I topped it at around 105mph, on a closed road of course.

It does enjoy to rev though, and all in all, I think the linear NA power curve can be quite enjoyable. It can be a bit of a pain when you get humiliated by diesel vans though.
It gets a great fuel economy, with around 44mpg combined.

Gearbox: 3/10

It's a 5 speed manual, and it does its job. It is pretty short though, and you'll navigate highway cruising speeds (legally at 80mph) at 4k rpm, which can be a bit annoying.
On a side note, my synchros for 1st, 2nd and 3rd are pretty worn. And the pedals are so far apart that it makes it hard to double declutch. Still, more fun than an auto!
Handling: 6/10

As I said, it's very light, and that's what makes it fun! That and the ridiculously thin tires make it quite chuckable, and you can make it rotate a bit on lift off, if you know what you're doing. Great fun on smaller roads! With the classic NA engine and the manual gearbox, it'll stamp a smile on your face more often than you'd expect, even if the controls are all a bit soft and squeashy. Not much feedback from the very large wheel.

However, if you push it too hard or if you try to corner too quickly in wait conditions, you'll be met by terminal understeer.

Braking: 3/10

Yeah, thin tires, small discs at the front and small drums at the back... You won't stop a jumbo jet with that. It does the job, but don't ask too much from it, or it'll overheat or just send the ABS to have a nice chat with you.
Comfort: 6/10

Being light and from an era when Nurburgring lap times where just a silly thing to measure, it has a very soft suspension. It'll ride bumps very gracefully. Seats are quite comfy too, but finding the perfect driving position can prove quite challenging. I'm 6', and I don't like how high the seat is. But it's acceptable, nothing dramatic.

It's also quite roomy and will fit 5 adults, although the three in the back won't be comfortable. Three persons with their luggage will fit perfectly, though, as proven by the multiple trips I've taken across France and back with two passengers.

Audio: 6/10

A nice surprise here. Because the car was developped with big, noisy diesel engines in mind, the soundproofing from the engine is quite thorough. Couple that with thin, low resistance tires, and you get a surprisingly silent car below 60mph. Above that, wind noise takes over to more expected levels for a car this cheap.
The stereo is quite good, too.
Toys: 4/10

Again, economy car, not much to see here. No cruise control, for example.
It does have a trip/mpg computer embedded in the instrument cluster, and controls for the radio/CD player behind the wheel, which is quite practical. Audio level can be coupled to the speed of the car.

Also, I love CDs and I have a dozen around in the car at all times, but I realise this is likely not the case for everyone.
Economy/Value : 7/10

I bought this car of a thousand bucks, and it has proven pretty much bulletproof. Ony serious job I had to do was redo the drum brakes, and also change the battery. That's it! It has never stranded me, beside that dead battery issue.
The driver's side window's engine is kaputt though, I will have to replace it at some point, so the window is stuck in closed position. Not a big deal, but slightly annoying. I does have AC.

Economy wise, as I said it gets great mpgs. Small tires are cheap, and so are parts. Very easy to insure.

I can see myself selling this for about 1 grand too, so nothing lost there!
VERDICT: 4.7/10 - Great first car!

It's a gas, NA, manual, sub-2,500 pounds car. Pretty much a Miata, right? It's also surprisingly reliable and comfortable. So sure, it's not very flamboyant or interesting, but for a first car it does the job remarkably well.
If only it could have that cuteness/craziness of the Twingo from the same period, it'd be pretty much perfect.


Stats

Price paid: € 1,000
Price when new: €13,000

Type: Hatchback
Doors: 3
Engine: 1.4L, 16V, gas, front-mounted

Transmission: 5-speed manual, to the front wheels
Power: 98hp, 94 Ib/feet
0-62mph in 10,5 seconds
115mph top speed
44mpg combined