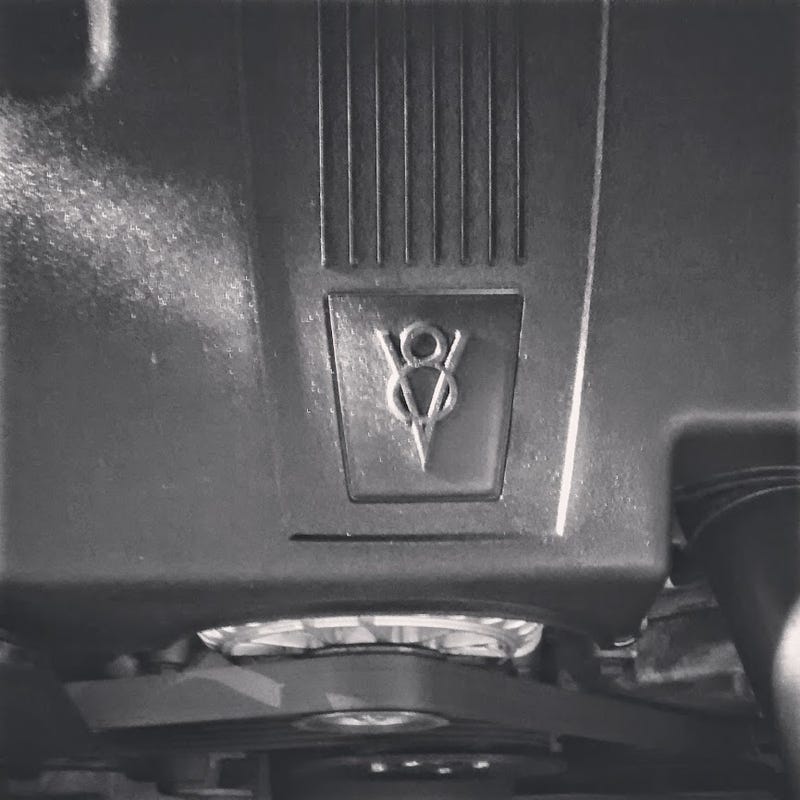 Today is my 5 month anniversary with my Panther, so I thought I'd throw a review up on here even though I am sure a million and two of them have already been posted. To be exact, this 2007 Model has 85,812 miles and an original sticker of $35,080.
(Full disclosure: Mercury did not want me to drive this car. In fact, they ceased to exist around the same time I got my license, and as a result I am about 40 years too young for this vehicle's demographic. I continue to drive it anyway.)
Exterior: 6/10
The Mercury Grand Marquis is 212 inches of American steel, and has remained largely inoffensive aesthetically throughout its entire run. My 2007 model was the final design in range, introduced 1 year prior, which shrunk the headlights, squircle'd the grille and changed the reflector between the taillights from red to clear. The look is pleasing, but at the same time, instantly recognized as a Crown Victoria with some chrome slapped on.
Interior: 7/10
To describe the interior of the Grand Marquis in two words: Cavernous and cossetting. The leather seats in my LS offer absolutely zero bolstering, and yet they are so comfortable. I suffer from a painful spine condition that will put me in a wheelchair in my 40's, and my Mercury is the only car I have ever driven that relieved me from this. The controls are simple and easily operable by those heading to Publix to spend their pensions on adult diapers. While the dashboard is 100% hard plastic, this 8 year old car has no rattles. Visibility is fantastic thanks to the low beltline, large windows, and thin pillars.
(I got rid of that steering wheel cover. It sheds too much.)
Acceleration: 4/10
I had a conversation with one of my coworkers the other day. We were discussing driving to the west coast, when the topic of my car came up. He exclaims, "WOW! YOU DRIVE A V8!?" and coos about how fast it must be. The Grand Marquis is many things...fast is not one of those. 230 HP pushing a 4,200 lb sled through a lazy 4-speed automatic results in a 0-60 of about 9 seconds, or slower than just about any 4-cylinder compact car on the market today. However, if you buy this car to drag race, you're dreadfully missing the point.
Braking: 3/10
Braking is REAL weak point for this car. After purchasing this vehicle, I almost immediately had the brakes inspected, because I thought they needed service. They were like new, but they just aren't that effective at stopping the car. Pedal feel is nonexistent, and you have to stab it down to get any kind of brake force out of them, resulting in a sharp nose dive from the soft suspension.
Ride: 8/10
I challenge you to find a car or truck that rides smoother than my Mercury. A combination of factors: The 16" wheels with tall sidewall tires, long travel coil spring suspension, body on frame construction, cushy seats, and long wheelbase make just about any road you are traveling down as smooth as Howie Mandel's head. Potholes and road ruts big enough to swallow a Mini? Won't feel them. Speed bumps? Go as fast as you want. Hundreds of miles of highway cruising? Sit back and relax, because you won't hear or feel a thing.
Handling: 4/10
All of its attributes giving it an excellent ride take away from its handling. The car leans like a drunkard at even low speed turns, and the car loses traction easily in the rain (may be due to tires). Not my first choice for an autocross.
Gearbox: 4/10
The first thing you notice about the gearbox is that it's a column shifter. This is, of course, to allow the Marquis to seat 6, which it does comfortably (have tested). The second thing you will notice is that it is terribly lazy. Getting this transmission to kick down is like trying to get the cast of Whose Line Is It Anyway to stop making balding jokes. However, the gearbox does do a great job of keeping RPMs low...at just about any speed below 60, you will hover just above idle. Cruising at 70 = less than 2000 RPM.
Toys: 5/10
My Marquis LS comes with most of the available toys, sans heated seats and air suspension. That means it has leather seats with power adjustment, a trip computer, 4-speaker sound system, keypad entry, automatic A/C (which breaks constantly), and originally came with a casette deck equipped radio. The compass and garage HomeLink unit on the roof stopped working a week after I bought the car. I added a touchscreen Kenwood head unit for bluetooth functionality.
Audio: 6/10
4 speakers you say? No brand name you say? How can it possibly sound good? Well, maybe it is because my last vehicle was a Versa with 2 speakers, made mostly of tissue paper, but the sound system in my Marquis is just wonderful. The sound is rich and clear, and the speakers are in just the right place for outboard riders to hear little details in music. Those in the middle get less satisfactory sound.
You never hear the engine unless you gun it. Mine doesn't have the dual exhaust, so you get a grumble, but not a roar, or even a growl. I would like to change that someday. Modular V8's aren't known for being the best sounding motors, but something is better than nothing, right!?
Value: 9/10
The original sticker of this car, which I have, was $35k. I paid $8,000 for the last of the V8-powered, body on frame slices of America that kept fleets running for 30 years. Unlike small turbo motors that never meet their MPG estimates, my V8 constantly exceeds its 15/23 rating, and despite the few electrical gremlins it is developing I expect it remain reliable and cosseting for many years to come. I may be only 20, but I can understand why so many have grown old with these cars. If you haven't driven a Panther, I suggest you do so at some point in your life, if only to get a feel for it's size and character. Now if only it were offered in manual...
56/100
Engine: 4.6L V8
Horsepower: ~230
Torque: ~285
0-60: 9 seconds (zeroto60times.com)
Top Speed: Driveshaft limits it to ~95 mph
Seating: 6 (preferably 2 with short legs)
MSRP: $35080